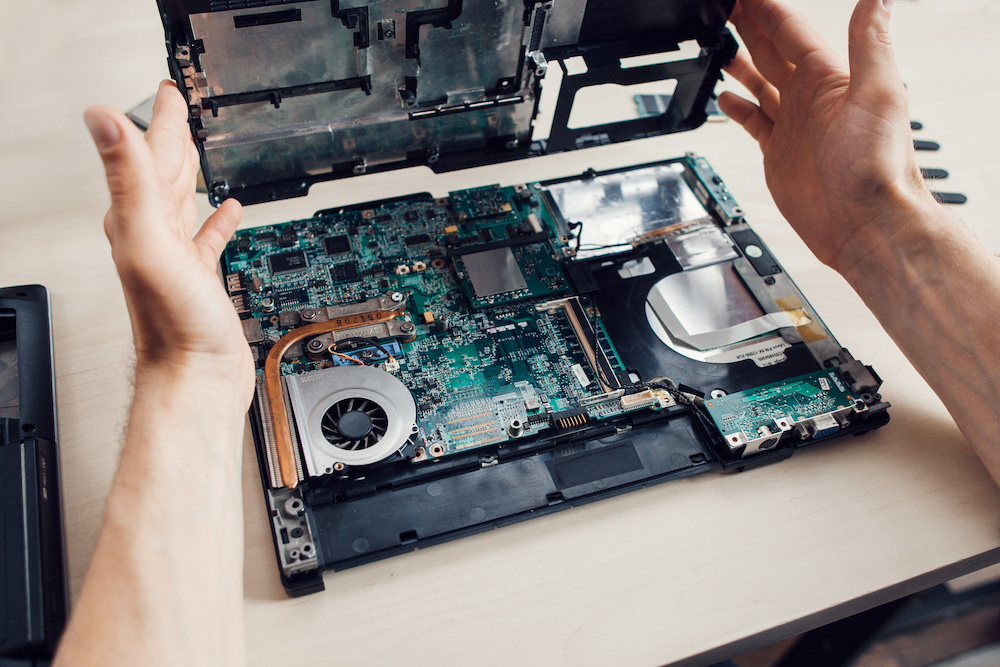 Asus Aura Not Detecting Motherboard: What Should You Do?
---
<!–googleoff: index–>We may earn a commission for purchases using our links. As an Amazon Associate, we earn from qualifying purchases.<!–googleon: index–>
---
Many Asus motherboards come equipped with aesthetically pleasing RGB lighting features.
These lights make your PC rig highly immersive both for gaming, videos, and music playing.
However, since these features are auxiliary to the many components that Asus primarily focuses on, setup and control can sometimes be buggy.
The primary control app for onboard Asus RGB lighting is the Asus Aura Sync software.
If you have been trying to set up your onboard aesthetics, chances are, you have come across problems with Asus Aura not detecting motherboard components.
We're here to help you identify the source of the problem so that you can rectify it yourself.
What Is Asus Aura RGB?
Aura RGB is Asus' primary software for controlling and tweaking parameters for built-in RGB LED lighting.
Asus designed it so that you can complement your gaming rig with a true expression of individuality.
Aura RGB offers an almost endless spectrum of light colors and patterns.
It provides you with the ability to synchronize lighting with in-game action and music.
Furthermore, it gives you the option to link your lights with CPU and GPU temperatures so that you have an early warning system for excessive overheating.
Most Common Issues with Asus Aura
Before going over the solutions, let's list all the problems concerning Asus Aura and their possible causes.
1. Asus Aura App Not Working
It is common for the Asus Aura software to not open, have unresponsive user interface buttons, or stop working altogether.
Third-party antivirus software is sometimes the culprit causing the Asus Aura App not to launch, which means disabling the former could be an easy fix.
There are many other reasons for these problems, but they primarily happen due to faulty installation or corrupted installation files.
In some inexplicable instances, overstressing your motherboard through overclocking pushes internal settings to disregard or skip Asus Aura, bringing the app to a complete stop.
2. Asus Aura Not Syncing With Components
When Asus Aura launches smoothly, provides access to buttons, and doesn't shut down, but RGB lights remain stagnant, you must have a faulty connection.
Otherwise, you may be using incompatible software, or the software needs a relaunch.
For example, any single PC setup may accommodate more than one brand of RGB lighting features.
You may have an Asus motherboard with attached Corsair components, or Asus components latched onto a non-Asus motherboard.
Be sure you have the correct software for every RGB component in your system.
3. Asus Aura Not Detecting Motherboard
Another possible issue is when the Asus Aura does not detect your motherboard or any attached RGB components.
More often than not, the problem stems from faulty wiring or improper connections.
Other reasons include:
RGB Versus aRGB
First off, there are at least two types of RGB connectors available.
One is the standard RGB header, and the other is the addressable RGB (aRGB or ARGB) header.
Asus markets its motherboards' latest standard four-pin RGB headers as Aura RGB Strip Headers and three-pin aRGB headers as Addressable Gen2 Headers.
Standard RGB headers use an analog connection with four pins corresponding to four wires that require 12 volts to power up.
On the other hand, the aRGB headers typically have three pins and three wires.
They require a five-volt power supply for a digital connection.
The four-pin analog headers allow minimal lighting features than the three-pin addressable headers, which offer a wide range of colors and effects.
Be sure that the third-party peripheral lighting components correspond to the connectors and that they are attached securely.
Components With Special RGB Lighting Features
You will also find memory modules, graphics cards, and cooling equipment with built-in RGB lighting controllable thru Asus Aura.
Some of these components require specific software other than Asus Aura.
Moreover, the RGB lighting on larger components, such as GPUs, pumps, and fans, may require control through specialized headers apart from their power supply.
Before purchasing any of these components, make sure your motherboard does support these extra lighting features.
You can see these connectors on motherboards with dedicated headers for Corsair devices.
Software Incompatibility
While most detachable RGB lighting peripherals are compatible with Asus Aura, some third-party products use their own software.
You might need to download and install these applications to access a full range of light colors and effects.
This is primarily why PC builders tend to get components from the same brand.
Having completely compatible components means you only need a single software, such as Asus Aura, to control all the available RGB lighting features.
Solutions to Asus Aura Problems
With all of the common issues arising from the use of Asus Aura, finding solutions can be very frustrating.
First and foremost, it is crucial to determine whether the issues come from the hardware or the software.
Before blaming the software for malfunctions, start by checking for hardware compatibility, improper connections, or underlying faulty wiring.
1. Reconnecting Headers
The Asus Aura software typically works fine as long as you make sure the hardware is compatible with the software.
Furthermore, you have to ensure that the hardware connects to the correct headers.
Remember that three-pin headers work for addressable lights.
On the other hand, four-pin headers only work for analog lights with the standard red, blue, green, and grounding wires.
After you have gone through all of the possible compatibility issues, perhaps all you have to do is see if all the connectors are plugged in securely.
Carefully check if all the headers have the correct number of pins.
In some cases, previously reconnected headers may require software relaunching or a complete system reboot.
2. Relaunching the Software
After ensuring compatibility and reconnecting the cables, try changing the on-screen parameters on the Asus Aura software.
If nothing happens, you may have to restart the software by exiting it and relaunching it from the executable file.
Getting the same results from relaunching the software could mean you should go a step further and reboot the whole system.
You can do this by restarting your PC.
Doing so could be one of the most repetitive actions you may have to take until restoring complete functionality with the RGB components.
3. Updating to the Latest Version
Another root cause of faulty functionality with RGB lighting and the Asus Aura app is having an outdated version of the software.
Always download the latest version of the Asus Aura app only from its reputable source.
Since its inception, the Asus Aura has had several improvements in its features and user interface.
Today, all Asus Aura Sync Utility features fall under the Armoury Crate brand.
Asus encourages downloading and installing Armoury Crate for complete, seamless control of all Aura lighting and device configurations.
Armoury Crate is the Republic of Gamers' (ROG) one-stop software for connecting, configuring, and controlling a wide array of ROG gaming products.
With it, you can customize and synchronize RGB lights and effects for all compatible devices.
You can also choose to take Asus Aura Sync to the next level by working on Armoury Crate with Aura Creator.
Aura Creator lets you create multi-layered, richly detailed lighting effects, similar to sound layering in audio software.
4. Uninstalling or Reinstalling Other RGB Apps
If you want to give Asus Aura unrestricted access to all your RGB lights, check that no pre-installed RGB controller applications interfere with it.
You may have had some RGB equipment that used an entirely different software automatically running as you boot your PC.
If this software has compatibility parameters with your new gear, it may be interfering with the Asus Aura app.
Consider uninstalling unnecessary RGB apps that are still currently running on your PC.
Alternatively, some systems with combined products may require two or more applications to run smoothly.
Our previous example of combined Corsair and Asus devices can provide a perfect simulation.
Corsair devices enable complete control using the Asus Aura Sync app after you have changed the settings using the iCUE app from Corsair.
5. Installation Path
Another quick solution is to check where you might have installed the Asus Aura Sync app.
You may have installed it into a directory with no access to the system and program files required to run the lighting controls on your motherboard.
Be sure that you install the Aura Sync app under administrator privileges so that it has autonomy over all of the compatible RGB lighting.
6. Disabling Quick Boot
In a Windows-based PC, there is a thing called Fast Start-up.
As the name suggests, Fast Start-up is a built-in parameter that reduces the time it takes to boot a device to the desktop screen.
Your computer stores system configurations onto the operating system hard drive.
It then recalls the stored info during your next boot for a faster start-up.
Fast Start-up is a helpful feature, especially when you need to access items on your computer quickly.
It doesn't typically ruin the Asus Aura installation files on your computer, but it may prevent the app from launching during Startup.
Because of the Fast Start-up, you may have to launch the Asus Aura app separately.
You also have the option to disable Fast Start-up by doing the following procedure.
Step 1. Open the Run dialog box by pressing the Windows Key + R on your keyboard.
Step 2. In the Run dialog box, key in "control panel" and hit Enter.
Step 3. On the drop-down menu labeled "View by," choose "large icons" or "small icons."
The window replaces the displayed items with more specific computer settings options.
Step 4. Click on Power Options to open the corresponding window.
Step 5. Click on "Choose what the power buttons do" on the left sidebar.
Step 6. In the next subwindow, click on the administrative privilege option that says "Change settings that are currently unavailable."
Notice how the greyed-out Shut-down settings become controllable.
Step 7. Untick the checkbox that says, "Turn on Fast Start-up."
Step 8. Click on Save Changes, exit the window, and reboot your system.
After restarting and the Asus Aura Sync still doesn't work, proceed with uninstalling and reinstalling the software and try another reboot.
If it still doesn't work after all of these steps, ensure all conflicting RGB apps, Aura Sync, and system files related to it are completely removed before reinstalling and rebooting.
Conclusion
Whenever you have issues with an Asus component and Asus Aura not detecting motherboard connections, you can always look back to these tips.
Every possible fix is pretty much covered here, and you wouldn't have to go looking for answers anywhere else.
Asus Aura RGB also works with Asus hardware other than motherboards.
Many of the best RGB motherboards don't have to come from Asus to support RGB lighting control with GPUs, memory modules, mice, and keyboards.
You may have an MSI of Gigabyte motherboard, and you found Asus components to pair with them.
Asus also offers control over these components as long as they have complete compatibility with Asus Aura Sync under the ROG Armoury Crate.