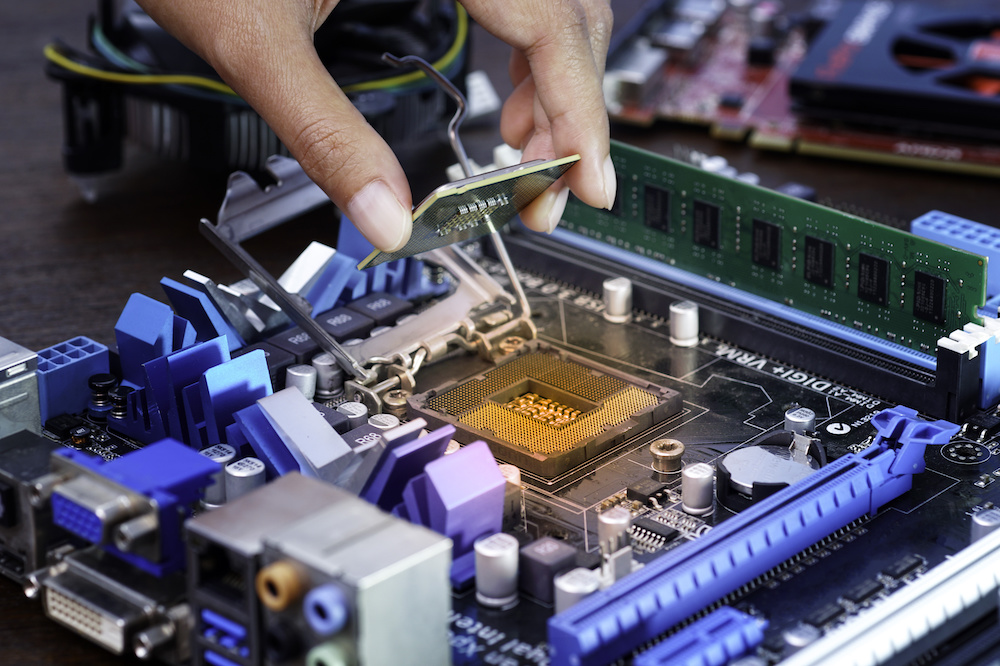 Best Motherboards of 2021: Complete Reviews With Comparisons
---
<!–googleoff: index–>We may earn a commission for purchases using our links. As an Amazon Associate, we earn from qualifying purchases.<!–googleon: index–>
---
Every year, we get all-new, high-quality upgrades from the best motherboard brands across the globe.
As these products get better and better, they come with pretty hefty price tags that not everyone can afford.
While technology seems to improve, you don't have to jump at every newly available upgrade for your computer.
As a matter of fact, the best computer components tend to stay up to par even after several years of use.
Below are reviews of five top-tier motherboards you can rely on for years.
Comparison Chart
ASUS ROG Strix B550-F Gaming Motherboard
ASUS TUF Gaming X570-PRO (WiFi 6) Motherboard
MSI Arsenal Gaming B450M Bazooka MAX WiFi Motherboard
ASRock H110 Pro BTC+ 13GPU Mining Motherboard
ASUS ROG Strix B550-A Gaming Motherboard
Best Motherboard Reviews
1. Asus ROG Strix B550-F Gaming Motherboard
The Asus ROG Strix B550-F is the lighter version of the ROG Strix B550-E, packing the same premium components as the latter.
If you can spend more on additional features, you might want to look at the Wi-Fi version of the B550-F.
Product Highlights
The Asus ROG Strix B550-F is an ATX motherboard compatible with 3rd Generation AMD Ryzen processors.
It has four DDR4 DIMM slots capable of holding up to 128GB of system memory.
Maximum memory speeds you can obtain with this motherboard reach up to 5100MHz.
Expansion options include two PCIe x16 sockets, each running at 3.0 x4 and 4.0 x16, respectively.
You can use these PCIe x16 slots for a 2-Way AMD CrossFireX multi-graphics setup.
If you have smaller expansion cards, you can attach them to the three PCIe 3.0 x1 slots.
Two M.2 slots and six SATA 6Gbps ports enable flexibility for the latest storage devices.
For connectivity, the Asus ROG Strix B550-F sports an Intel I225-V 2.5Gb Ethernet adapter with ASUS LANGuard protection.
Display outputs course through the DisplayPort and HDMI ports, and premium audio features come with the ROG-exclusive SupremeFX 8-Channel HD S1220A codec.
The front and rear panel connectors include 14 USB ports, and more are available through internal headers.
The Good
Being a ROG motherboard entails having several exclusive software essential for gaming, immersive sound, RGB lighting control, and overclocking.
Additionally, Asus provides a user-friendly BIOS interface, something other brands such as Gigabyte and ASRock have yet to perfect.
The Bad
The Asus ROG Strix B550-F has a similar version with Wi-Fi.
If you need wireless connectivity, the Wi-Fi version is the better way to go.
Moreover, the B550-E is more powerful and feature-packed than the B550-F.
2. Asus TUF Gaming X570-Pro Wi-Fi Motherboard
The Asus TUF Gaming X570-Pro Wi-Fi is a well-rounded motherboard packed with amazing features but remains reasonably priced.
As such, it is our top choice among the options compatible with AMD Ryzen processors.
Product Highlights
The Asus TUF Gaming X570-Pro Wi-Fi is an ATX form factor motherboard, which means you can expect a complete set of features for various applications.
While it is a gaming-focused motherboard, it can suit content creation and multitasking applications with the appropriate accompanying hardware.
What's more, this motherboard supports a broad range of AMD processors, including the latest 5000 Series.
The four DDR4 memory slots can hold up to 128GB of RAM and overclock up to 5100MHz.
Expansion slots include two PCIe x16 sockets and two PCIe 4.0 x1 sockets.
One of the x16 sockets runs on PCIe 4.0, while the other runs variably dependent on your choice of processor.
Running any of the compatible 1st to 3rd Gen Ryzen processors enables 2-Way CrossFireX multi-graphics with Radeon GPUs.
The storage interface allows two M.2 devices and eight SATA 6Gbps connections.
For connectivity, you'll be happy to know that it has the latest in LAN and wireless technologies.
It sports the Intel I225-V 2.5Gb Ethernet adapter and the Intel Wi-Fi 6 AX200.
Display output ports include an HDMI 1.4b and a DisplayPort 1.2.
The audio support is also worth noting, with the Realtek ALC S1200A 8-Channel HD codec.
Like the ROG Strix B550-F, the TUF Gaming X570-Pro offers 14 USB ports on the front and back panels and more through internal headers.
The Good
We like that the TUF Gaming X570-Pro offers better options for more storage devices than any other alternative in this compilation.
Additionally, the included latest adapters for both wired and wireless networks are also a plus.
One feature available you won't find in other motherboards on this list is the USB3.2 Gen2 ports.
The Bad
The only thing we find lacking from the TUF Gaming X570-Pro is multi-GPU support for NVIDIA graphics cards.
3. MSI B450M Bazooka Max Wi-Fi Motherboard
If you want to spend less and need a smaller alternative, check out the MSI B450M Bazooka Max Wi-Fi.
It competes with an aggressive price, as it offers the essential features needed in a smaller form factor.
Product Highlights
The MSI B450M Bazooka Max Wi-Fi is a micro-ATX form factor motherboard compatible with the 1st, 2nd, and 3rd Generation AMD Ryzen processors.
While smaller than other motherboards, it has the same 128GB RAM capacity with its four DDR4 DIMM slots.
You will also find that overclocked memory speeds can reach 4133MHz with the 3rd Gen processors.
Expansion slots include a PCIe 3.0 x16 socket and a PCIe 2.0 x16 socket.
In addition to the reduced number of PCIe connectors, the board only has a single M.2 slot and four SATA 6Gbps ports for storage devices.
This device holds back on expansion and storage, but it ensures both wired and wireless connectivity.
It has a Realtek RTL8111H Gigabit LAN controller and a Single Band Wireless-AC 3168 expansion module.
MSI minimizes both display and audio output to a single HDMI port and three audio jacks, respectively.
Finally, it has a single legacy PS/2 port with eight USB ports on the back panel plus six more USB connections through internal headers.
The Good
The MSI B450M Bazooka Max Wi-Fi offers a smaller option for those seeking to build systems in smaller enclosures.
It also retains the memory capacity available to all the larger boards here, even if it sits at a much lower price mark.
The Bad
The MSI B450M Bazooka Max Wi-Fi is a pretty decent motherboard.
However, you can find better or similar B450 alternatives at more competitive prices.
Some examples include the B450M Mortar Max, B450-A Pro Max, and the B450M Pro4.
Most of these motherboards remain cheaper than the MSI B450M Bazooka Max Wi-Fi even after adding the cost for a Wi-Fi adapter.
4. ASRock H110 Pro BTC+ Motherboard
The ASRock H110 Pro BTC+ is the only option here geared towards building an Intel-based rig.
However, it targets a very specific niche for cryptocurrency mining.
As such, it might not fill in the requirements for mainstream builds.
The ASRock H110 Pro BTC+ precedes the ASRock H81 Pro BTC, one of the best-rated motherboards for mining.
Product Highlights
The ASRock H110 Pro BTC+ is an ATX form factor motherboard capable of handling the 7th and 6th Generation of Intel Core i7, i5, and i3 processors.
It only has two DDR4 DIMM slots that can support up to 32GB of RAM and a maximum of 2400MHz memory overclocking.
Although it only has a single PCIe 3.0 x16 socket, it boasts a total of 12 PCIe 2.0 x1 slots, allowing you to install 13 GPUs for crypto mining.
Its storage interface is similar to that of the B450M Bazooka Max Wi-Fi, having only a single M.2 slot and four SATA 6Gbps ports.
The ASRock H110 Pro BTC+ allows a wired connection to a local area network with its Giga PHY Intel I219V adapter.
A single DVI-D port enables display output, and three audio jacks allow audio input and output.
In addition to the DVI-D port, other legacy connectors include two PS/2 ports.
The rear panel only has six USB ports, but two internal connections allow four more USBs.
The Good
Since the ASRock H110 Pro BTC+ is a crypto-mining-focused motherboard, it lets you cut down costs, minimize space utilization, and enable system unification.
Without a motherboard like the ASRock H110 Pro BTC+, you'll have to spend more on multiple CPUs, DIMMs, and storage devices.
You can unify multiple GPUs into a single system, so you won't have to monitor separate rigs.
Moreover, you save a lot of space on a single system compared to having separate mining rigs.
The Bad
The ASRock H110 Pro BTC+ is a mining-centric motherboard that offers minimal functionality for gamers, multi-taskers, and content creators.
It only simplifies a system for general-purpose computing and crypto hash rate enhancements.
If you need something for gaming or content creation, look for mainstream Intel-based motherboards.
Otherwise, check out our X299 motherboards for multitasking with high-end desktops.
5. Asus ROG Strix B550-A Gaming Motherboard
The Asus ROG Strix B550-A belongs to the same product line as the ROG Strix B550-F.
They have similar release dates, and their variation pretty much falls under the aesthetics department.
Product Highlights
Spec-wise, the Asus ROG Strix B550-A is very similar to the B550-F.
It has the same ATX form factor and CPU support for 3rd Gen Ryzen processors and the same system memory capacity and memory OC speeds.
Furthermore, it houses the same amount of expansion cards and storage devices.
As if they weren't actually the same products, the B550-A also features the same rear panel, front panel, and internal connectors available to the B550-F.
The Good
The good thing about the B550-A is that Asus gives you the option to build a primarily white or silver PC rig.
The superimposed white and silver metallic heatsinks blend pretty well with DIY components, such as white Strix PSUs, LC coolers, and GPUs.
The Bad
The only differences we could find between the B550-A and the B550-F are the white color scheme and the absence of an RGB-backlit ROG logo.
They share the same problems, such as lacking Wi-Fi connectivity and having fewer features than the B550-E.
Buyer's Guide
When buying a motherboard, it is crucial not to fall victim to the hype that comes with the newest upgrades.
They might offer features that are too advanced even for existing third-party components to keep up.
Look for the basic features you need, and factor in your budget to cover all the bases.
1. Form Factor
Similar to anything that occupies space, size matters.
Desk space and PC enclosure may dictate your motherboard form factor.
However, your requirements for other attachments may also be a deciding factor.
2. CPU Compatibility
Whether you're deciding on a CPU or already have one reduces the pool from which you choose your motherboard.
Do you want an Intel-based system, or do your preferences sway towards an AMD Ryzen build?
Also, keep in mind that not all AMD chipset motherboards are compatible with every AMD processor and vice versa.
This compatibility concern is also true with Intel processors and their corresponding chipsets.
3. Memory Slots
The memory slots on a motherboard determine how many memory modules you can attach and how much memory capacity it can hold.
Motherboards nowadays can hold up to 128GB of RAM, and the faster DDR5 memory slots are still underway.
Still, some motherboards with lower memory capacities circulate the market.
Decide how much RAM you need, and check if you can tolerate the lower memory capacities on much cheaper motherboards.
4. Expansion Options
Expansion slots on a motherboard determine what expansion options it provides.
If you need multi-graphics support, you might as well go for the boards with multiple PCIe 3.0 or 4.0 x16 slots.
Furthermore, look for x1 and x4 slots if you plan to use smaller peripheral expansions, including sound cards, TV tuners, serial and parallel cards, and the like.
5. Storage Interface
The storage interface sets the type of connections for removable storage devices.
Today, the most common storage connectors you will find on a motherboard are a group of 6Gbps SATA ports.
You will also find the more advanced M.2 slots for the latest solid-state drives (SSDs).
Having both connector types is the best way to go, as the latter prepares your rig for compatibility with upcoming advanced storage devices.
Bear in mind that in some motherboards, the M.2 functionality disables some of the SATA ports.
6. Connectivity Features
After finalizing your memory, expansion, and storage options, make a list of your connectivity requirements.
Consider LAN, Wi-Fi, Bluetooth, USB, legacy ports, display connectors, and audio ports.
Network connectivity is an essential requirement for computers, especially now that the internet pretty much offers everything.
Wi-Fi and Bluetooth are plus factors, but many computer functions work well without them.
As for input and output devices, check that your motherboard offers all the USB, display, audio, and legacy ports you need.
7. Extra Componentry
A motherboard can also provide extra parts and features for very specific functions.
If you enjoy aesthetically pleasing computers, RGB and ARGB lighting can give your system the spectatorship it deserves.
Different options for system cooling also function as highly aesthetic peripheral devices with built-in lights that synchronize with your system sounds.
Some might consider having a CMOS jumper or a BIOS reset button a perk, but many would think of them as essential.
Diagnostic LEDs and debug displays are also of this sort.
Other extra features to look for are overclocking controls, manual lighting or cooling controls, and a trusted platform module (TPM) connector.
Motherboard FAQs
1. When should you get a new motherboard?
One of the main reasons to get a new motherboard is when you have a new CPU, and your existing motherboard can no longer support it.
Another reason is when a top-rated motherboard goes on sale, you have the budget for it, and you think it will set you up for many years of use.
Conversely, you should get a replacement before your existing motherboard succumbs to complete failure so that you can avoid workflow interruptions.
2. What are the symptoms of motherboard failure?
Some of the symptoms of motherboard failure that are easily recognizable include unexpected intermittent shutdowns, screen freezing, and startup malfunctions.
You may come across the popular Blue Screen of Death (BSOD) when the screen freezes, or you might hear annoying beeping noises directly from your PC enclosure.
Other symptoms may come as burnt smells or appearances directly on the motherboard.
Check out our section on testing motherboards for an easy fix or to find out if you need a replacement.
Another way to check for motherboard failure is to look for diagnostic LEDs on the motherboard itself.
These tiny red lights on your motherboard can save you a lot of time searching for the root of the problem.
3. Which motherboard is best for me?
Choosing a motherboard is one decision anyone shouldn't face lightly.
Remember that a motherboard is the central hub of any computer, and carefully dissecting its features can go a long way in building a great rig.
Before digging deep into the componentry of a motherboard, some things to think about include system platform, target purpose, form factor, and spending limit.
Your choice of motherboard depends on which of the two major system platforms you want running on your computer: AMD or Intel.
While the option is typically related to your budget, it is more of a personal preference.
Both brands offer competitive CPU benchmarks and performance ratings, and there's no telling when they will stop being at each other's throats.
You may already have a CPU on hand, and all you need is a motherboard that pairs with it.
In that case, all you have to do is decide for what purpose you are building the computer and what size you need the motherboard to be.
Some of the purposes that significantly affect motherboard choice include gaming, content creation, multitasking, high-speed rendering, and cryptocurrency mining.
The form factor will help you determine which motherboard size perfectly fits your needs.
Ultimately, it will tell you how big your PC enclosure should be and what sort of desktop space you might be needing.
After securing your options, specify and rank all of the individual components and features you need and tailor them to fit your budget.
4. Is it worth buying an expensive motherboard?
When it comes to technology, buying an expensive upgrade should equate to quality, durability, and longevity.
If you have enough cash to spend, it is worth purchasing an expensive motherboard as long as it has all of the components you need.
An expensive motherboard should bring your computer functionality for several years by providing compatibility with the latest and upcoming components.
However, if you are on a budget, an expensive motherboard is probably not the best option.
Even cheaper alternatives can set you up for years to come so long as you keep the much-needed features in check.
5. Can I replace my own motherboard?
Replacing a motherboard can be a tedious task even for seasoned PC enthusiasts.
Even so, with the right tools and know-how, replacing a motherboard should be pretty straightforward.
Fortunately for you, we have a whole section on replacing motherboards and a complete guide on installing a motherboard for first-timers.
Which Motherboard Is Best?
The best motherboards we presented here revolve chiefly around the most advanced AMD Ryzen processors.
The primary reason is that, overall, AMD Ryzen setups are more affordable than competing Intel-based systems.
Among the choices, the Asus TUF Gaming X570-Pro Wi-Fi holds the most advanced features and fastest overclocking speeds.
While it is a gaming-focused motherboard, it works well for multitasking and content creation applications.
If you need an Intel-based product, you can stick with the only option we have here: the ASRock H110 Pro BTC+ motherboard.
It pairs well with the 6th and 7th Generation Intel Core and the Pentium and Celeron G Series processors.
Otherwise, you might want to check out other top-tier Intel motherboards.
1. Best by Type/Brand
2. Best by Chipset/Socket
3. Best by Processor