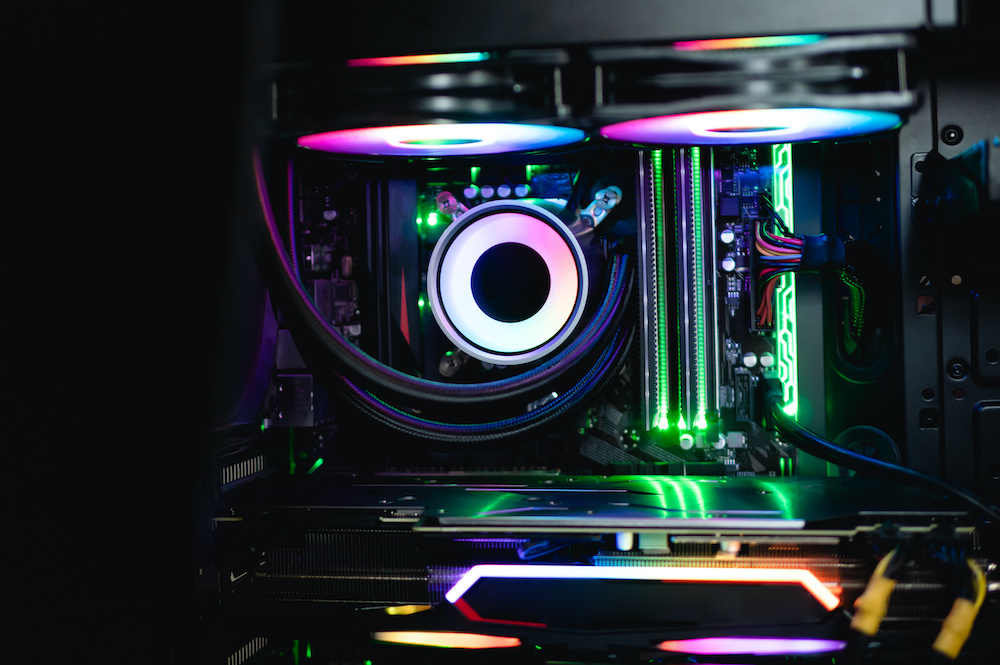 Best RGB Motherboard of 2021: Complete Reviews With Comparisons
Because of how trendy they look, you will find LED lights embedded into almost all computer parts and accessories.
Among the latest upgrades are RGB-lit motherboards.
Although the RGB header is an integral part of the motherboard for supporting RGB accessories, you can now purchase motherboards with built-in RGB LED lights.
Having an RGB motherboard means you won't have to spend more on additional stand-alone lighting accessories.
To help you pimp your PC and upgrade your motherboard at the same time, we have compiled this list of the five best RGB motherboards.
Read through the features, upsides, and downsides of each one to find out which RGB motherboard satisfies your PC build wish list.
Comparison Chart
Asus AM4 TUF Gaming X570-Plus Motherboard
Asus Prime Z390-A Motherboard LGA1151 (Intel 8th & 9th Gen)
MSI MAG B550 TOMAHAWK Gaming Motherboard
GIGABYTE B365M DS3H Motherboard
MSI Performance Gaming AMD Ryzen 1st, 2nd, and 3rd Gen Motherboard
Best RGB Motherboard Reviews
1. MSI MAG B550 Tomahawk Gaming Motherboard
MSI motherboards are strong contenders for RGB technology, and each one has a very modern look with different RGB lighting options.
The MSI MAG B550 Tomahawk Gaming Motherboard offers superior hardware design and enhanced performance while allowing a DIY-friendly assembly.
With this, you can be a beginner at PC-building yet still look like a pro.
Product Highlights
The MAG B550 Tomahawk has a variety of connectors to satisfy every PC builder.
These connectors allow you to enhance audio, improve LAN capabilities, speed up data transfers, and create plenty of RGB light effects.
Enjoy immersive RGB lights synced with audio using the motherboard's dedicated high-definition audio processor and high-quality audio capacitors.
With the MSI Dragon Center app, you can optimize online gaming traffic and experience Mystic Light effects on the motherboard.
The MAG B550 Tomahawk offers 29 LED effects on its built-in RGB lights and any of its RGB and ARGB attachments.
This motherboard has two JRGB pin headers and two JRAINBOW pin headers.
These headers can be programmed using the MSI Mystic Light app, which allows you access to the 29 LED lighting effects with just a click.
The Good
While it offers a very flexible RGB setup, the MAG B550 Tomahawk also allows fast and future-ready storage with extreme stability.
It also comes with MSI's brand-new Dragon Center application, which unifies utilities into a single, centralized software.
Utilities include display color controls, live software updates, hardware monitoring, RGB light controls, and cooling system controls.
The Bad
The downside to the MAG B550 Tomahawk is that its chosen PCIe/M.2 lane allocation lacks what other similarly priced models have.
You cannot run three M.2 SSDs or any two M.2 SSDs with a third high-bandwidth card.
Additionally, this board only has a 1.4b version HDMI port, which cannot compete with the 2.0 or 2.1 version available on other models.
Having this version of an HDMI port means you cannot run a 4K60 output on your TV or HDMI monitor.
2. MSI B450 Gaming PRO Carbon MAX Wi-Fi Motherboard
Another notable RGB motherboard from MSI is the B450 Gaming PRO Carbon MAX motherboard.
Compatible with up to third-generation Ryzen 9 processors, this RGB motherboard offers colorful customization with the MSI Mystic Light RGB app.
Product Highlights
Packed with features from left to right, it would be hard to find other B450 chipset motherboards better than this one.
Partner the B450 PRO Carbon MAX with the Mystic Light App to sync hardware and choose from 17 effects in just one click.
These 17 effects can be multiplied into a vast number of possibilities using the 16.8 million colors of RGB.
Like the MAG B550 Tomahawk, the B450 PRO Carbon MAX is also compatible with the Dragon Center App for utility centralization.
The MSI B450 PRO Carbon MAX has two JRGB headers and one addressable JRAINBOW header.
The Good
Customize your RGB experience with the Mystic Light app or the Dragon Center utility app, and create tons of effects with add-on LED strips.
What's more, you can pair this motherboard with MSI-compatible hardware, such as keyboards and mice, to maximize its RGB potential.
The Bad
Compared to the other MSI motherboard on this list, the B450 PRO Carbon MAX can only apply 17 effects to the 16.8 colors of RGB.
It also has one less addressable RGB connector if compared to the B550 Tomahawk.
Other than those factors, the B450 PRO Carbon MAX also only supports AMD processors.
3. Asus AM4 TUF Gaming X570-Plus (Wi-Fi) Motherboard
Asus ranks as one of the world's top technology leaders in the manufacture of motherboards.
Its product line offers a long list of motherboards for gaming, but among the most noteworthy RGB models is the Asus AM4 TUF Gaming X570-Plus motherboard.
Product Highlights
The Asus AM4 TUF Gaming X570-Plus motherboard is compatible with the Aura Sync lighting system of Asus RGB builds.
You can synchronize lights with many choices of compatible PC hardware, which includes addressable RGB strips.
In addition to two RGB headers, the TUF Gaming X570-Plus has a second-generation addressable RGB header.
Using a single intuitive interface that supports Aura Sync, you can customize and synchronize RGB lighting and effects for every compatible hardware in your setup.
With the Aura Sync and the TUF Gaming X570-Plus, you can create intricate lighting effects on your system, including smart lighting to indicate CPU status.
The Good
The TUF Gaming X570-Plus is compatible with the Asus Armoury Crate application, which gives you control over a wide array of gaming products.
As if RGB lights weren't your primary focus, the TUF Gaming X570-Plus motherboard boasts rock-solid performance, unwavering gaming stability, and exceptional cooling technology.
The Bad
The only bad thing we can say about the TUF X570-Plus motherboard's RGB capabilities is that it works best with Aura Sync compatible hardware.
You won't run out of Asus RGB hardware to complement your PC since there are loads out there.
Not counting RGB compatibility with other brands, the TUF Gaming X570-Plus motherboard is specific for AMD processors.
4. Asus Prime Z390-A Motherboard
If you want an Asus motherboard and still keep your Intel core processor, the Asus Prime Z390-A could be a perfect fit.
The Asus Prime series can unleash your CPU's full potential with its robust power design, comprehensive cooling system, and smart tuning options.
Product Highlights
The Prime Z390-A motherboard can provide the PC builder with various RGB effects and capabilities using the same Aura Sync platform.
With this, you can enhance your gaming rig with visual beauty by equipping it with full RGB lighting control.
It has two onboard RGB headers that can support 5050 RGB LED strips, each having a maximum power rating of three amperes.
Match this motherboard with Aura-capable hardware to maximize its full RGB potential.
In addition to its RGB features, the Asus Prime Z390-A allows next-generation, ultra-fast connectivity and simplified CPU overclocking for seasoned overclockers and beginners.
You can get a CPU performance boost with the TurboV Processing Unit (TPU).
It can automatically fine-tune voltages, monitor system statistics, and adjust overclocking settings.
This motherboard ensures all-round energy efficiency with its Energy Processing Unit (EPU).
Maximize energy savings by automatically optimizing power consumption for system-wide power efficiency.
The Good
The Prime Z390-A is a good-looking board with two native RGB strips: one hidden under the chipset heat sink and one under the IO house.
Enjoy a competitive RGB setup with a motherboard that optimizes overclocking in five simultaneous ways.
The Prime Z390-A also has a Media-acclaimed UEFI compatible with the Fan Xpert 4 application of Asus.
You can use both for flexible air and water cooling system controls.
The Bad
Although the Prime Z390-A has two Aura RGB connectors for additional lighting components, it does not have an addressable RGB connector.
Additionally, Asus designed the Prime Z390-A motherboard with an Intel socket 1151, which is only for 9th and 8th generation Intel Pentium or Celeron processors.
The Z390-A is an excellent upgrade if you switch from Z170 or Z270 models, but it only improves board design if you are switching from a Z370.
5. Gigabyte B365M DS3H Motherboard
Like Asus and MSI, Gigabyte is another world contender for the manufacture of award-winning motherboards.
Gigabyte has raised the technology industry's standards by creating their patented Ultra Durable motherboards that can last and outlast other models.
Product Highlights
The Gigabyte B365M DS3H allows you to personalize PC setup by choosing among a total of seven colors to illuminate using an RGB light strip.
Gigabyte promotes its RGB Fusion App, which brings together lighting effects across a wide array of supported hardware.
The RGB Fusion app permits RGB calibration with varying LED strips that have different RGB pin definitions.
The app also lets you save, export, and import lighting profiles for a quick change of effects based on your preferences.
The Good
Its best feature yet is that it lets you play around with lighting effects on your PC, even when you are away from your setup.
The RGB Fusion app has a mobile version, which you can download onto your cell phone or tablet.
This means you don't need access to your keyboard to impress people with light effects while gaming.
The Bad
The mobile app may seem fancy, but the Gigabyte B365M DS3H motherboard only has one RGB LED strip header and no addressable connectors.
It also doesn't have a built-in native RGB light anywhere on the board, unlike most models on this list.
This motherboard only supports 8th and 9th generation Intel processors.
Buyer's Guide
When purchasing an RGB motherboard, you need to focus on the following key features in addition to the basics.
1. Built-in Native LED lights
Some RGB motherboards do not have any built-in LED lights in addition to the attachable connections.
Extensive RGB motherboards have a combination of built-in lights and multiple RGB and ARGB connectors.
2. RGB Headers
RGB headers are the most basic connections for varying hardware, such as LED strips and RGB fans.
Take note that RGB headers use a 12-volt four-pin connector and only allow a single color across a whole strip of lights in the same connection.
3. Addressable RGB Headers
Addressable RGB or ARGB headers have a microchip that can address a wide array of lighting instructions on a single light strip.
Even with a smaller power consumption of five volts over a three-pin connection, you can have variable colors on a single LED strip connection.
4. RGB Software and Hardware Support
Manufacturers design hardware and software that support a whole system of compatible components.
Check that the motherboard you choose supports other hardware you may already have.
5. Motherboard Basics
Don't forget about the basics for choosing a motherboard.
If you're upgrading, check that the motherboard you're getting has the correct processor slot for your existing CPU.
Also, check for factors such as board size or form factor, RAM slots, chipset, ports, built-in audio and graphics, and additional expansion slots.
RGB Motherboard FAQs
1. Do all motherboards support RGB fans?
Older motherboard models that do not have any RGB headers cannot support RGB fan light strips.
You can plug the fans into the motherboard, but the lights will require a separate connection to work.
Additionally, although RGB aesthetics are very trendy, not all new motherboards have RGB headers for supporting RGB fans.
2. Does RGB software affect performance?
Although the lighting variations on RGB hardware are purely aesthetic, the software that manipulates those lights may have varying levels of effects on computer performance.
Depending on the software, this can be zero.
Some RGB software only set cycling, shifting, and flickering between colors, while others enable effects that sync with computer-run programs, such as music and games.
Since a computer uses memory and processing power to sync between games, music, and light effects, you will notice a toll on the device's performance.
With RGB effects, you will find a lighting service program listed in task manager indicating it has some CPU and memory usage.
3. How do I know if my motherboard supports RGB?
To know whether your motherboard can support any RGB hardware, check with your supplier or look for RGB or ARGB headers.
You can find these details on your motherboard spec's web page.
4. Do you need RGB motherboard for RGB RAM?
Most RGB RAMs do not require the motherboard to be RGB as long as the RAM has its software for manipulating RGB settings.
Some RGB RAMs do not have the software and may not be compatible with RGB systems, such as Asus Aura and MSI Mystic Light.
The software ultimately controls the RGB settings between all the computer hardware, and it is always best to check for compatibility before purchase.
5. Can I use RGB fans without RGB header?
In some cases, you might just want to add some lights and color to your PC build by purchasing RGB-fitted accessories, such as RGB fans and LED strips.
With all the available tech, it is possible to install some RGB fans even if your existing motherboard does not have RGB headers.
All you need is a power source and a compatible RGB controller.
Some builds have a whole RGB fan system that gets power directly from the PSU because the motherboard does not have RGB headers.
Final Verdict
Among the five options, which one stood out as the best RGB motherboard? In the end, it all boils down to compatibility.
If you are building a new rig where you want to maximize RGB accessories, the MSI MAG B550 Tomahawk should be at the top of your list.
However, if you are just looking to upgrade your motherboard, chances are you wouldn't want to be spending more to replace other parts of your PC.
You can keep your AMD Ryzen processor if you go for the MSI B450, MSI MAG B550, or the Asus TUF X570-Plus motherboards.
However, if you want to keep using your 8th or 9th generation Intel processor, choose the Asus Prime Z390-A or the Gigabyte B365M DS3H models.