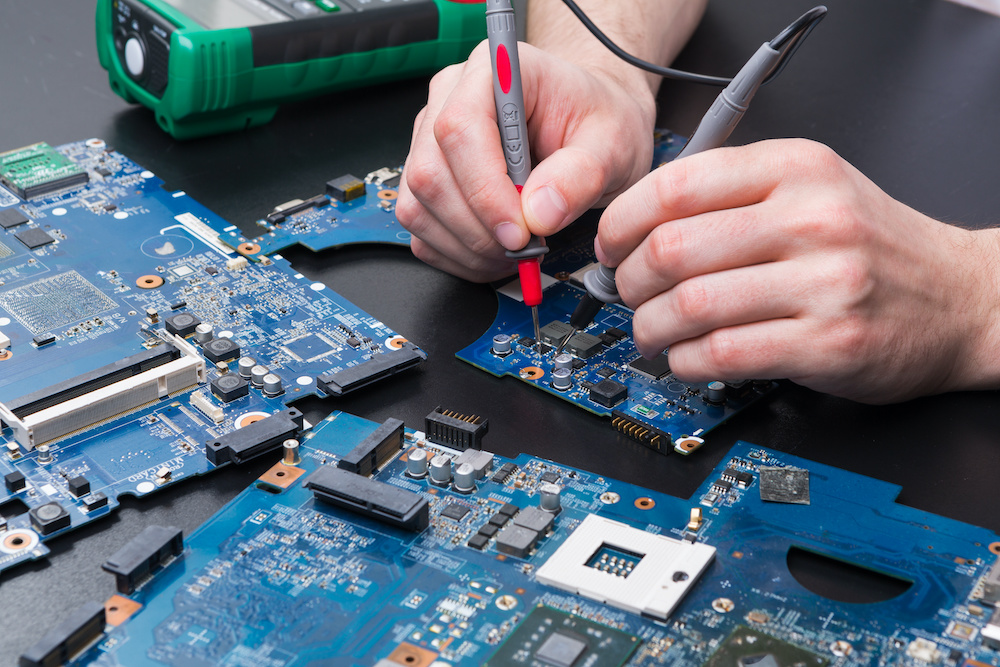 Best X299 Motherboards of 2021: Complete Reviews With Comparisons
---
<!–googleoff: index–>We may earn a commission for purchases using our links. As an Amazon Associate, we earn from qualifying purchases.<!–googleon: index–>
---
Planning to build a high-end desktop computer? Or are you just looking to upgrade your motherboard?
An X299 motherboard can give you a whole new experience in multi-tasking and multi-threaded software applications.
Check out these reviews for the best X299 motherboards to complete your rig.
Each will lay down the pertinent features that could help out a beginner or upgrade the setup for a long-time enthusiast.
Comparison Chart
ASUS Prime X299-Deluxe II X299 Motherboard
ASUS ROG Strix X299-E Gaming II ATX Gaming Motherboard
EVGA X29 Intel Motherboard
ASRock X299 Taichi Motherboard 
GIGABYTE X299X AORUS Master Motherboard
Best X299 Motherboard Reviews
1. ASUS Prime X299-Deluxe II
When it comes to top-of-the-line motherboards, ASUS offers a long list of options to keep you busy choosing.
We want to showcase two of them on this list. The first one is the ASUS Prime X299-Deluxe II motherboard.
Product Highlights
The Prime X299-Deluxe II comes with dual eight-pin PSU connectors that pass 12 volts directly to the processor.
The dual eight-pin connectors use solid pins to deliver up to 25 percent more power wattage than traditional hollow pins.
This motherboard boasts an included Fan Extensions Card II.
This adds six controllable headers, three of which have a temperature sensor and the other three primed for RGB lights.
The board comes with two Thunderbolt3 ports, a USB3.1 Gen2 front-panel connector, integrated Wi-Fi, built-in accelerated 5G networking, and outstanding CrystalSound3 Audio.
Finally, the Prime X299-Deluxe II offers full RGB lighting control with its dual RGB pin headers and single addressable RGB header.
What We Like
The Prime X299-Deluxe II balances heat gain using a bigger CPU VRM-heatsink array, passive M.2 heatsinks, and very comprehensive cooling controls.
Quick and easy five-way optimization for cooling and overclocking profiles are available through an intuitive interface.
With the Prime X299-Deluxe II, you can support multiple GPU cards on your device for rendering, financial modeling, scientific research, and AI training.
What We Don't Like
The ASUS Prime x299-Deluxe II does not provide a 2PCI-e x 1 slot combo to work with the front USB 3.0.
Also, it does not allow the use of all SATA without lane-sharing.
2. ASRock X299 Taichi CLX
ASRock has about the same age and employee base as EVGA, but its focus is on developing motherboards, industrial PCs, and home theater PCs.
The company ranks as the fourth largest manufacturer of motherboards globally. One of its critically-acclaimed motherboards is the X299 Taichi CLX.
Product Highlights
The X299 Taichi CLX adds support for the 48 CPU PCI Express lanes instead of the 44 maximum lanes supported by older models.
This capability means that the motherboard can support 10th generation processors from the Intel X-series.
The motherboard supports up to a maximum of 256GB RAM with eight DIMM slots.
It has eight SATA connectors, three M.2 slots, seven USB 3.0 rear ports, two USB 3.1, and four USB 2.0 via front header.
In addition to all of these Type-A USB ports, the device also offers a USB Type-C header, two Ethernet jacks, onboard Wi-Fi, and two addressable RGB headers.
The onboard audio chipset is a Realtek ALC1220 with 7.1 channels.
What We Like
ASRock complements the motherboard with a well-organized BIOS that has an intuitive GUI.
It has a CPU-fed M.2 slot, which gives it a competitive advantage against other X299 motherboards.
These features make the X299 Taichi CLX cheap enough to counterbalance the expensive Skylake-X processor upgrade.
What We Don't Like
If you use a Kaby Lake-X processor on this motherboard, the extra M.2 slot does not have Scalable Link Interface support.
In addition to this, we also found that the Wi-Fi module on the board is a lower, slower model compared to other competing boards.
3. ASUS ROG Strix X299-E Gaming II
Yet another noteworthy ASUS X299 motherboard is the ROG Strix X299-E Gaming II.
Winning multiple awards since its introduction to the market, the ROG Strix X299-E Gaming II offers solid hardware specs.
Product Highlights
The ROG Strix X299-E Gaming II has an excellent power supply with comprehensive cooling options and faster storage and memory.
Fill up your rig with your favorite games, and never worry about running speeds with its 256GB-max DIMM slots.
Using OLED and ASUS-exclusive Aura Sync RGB lighting, you can personalize your rig with the onboard RGB headers and addressable RGB connectors.
It also lets you maximize gaming connectivity and networking using the three M.2 slots, USB 3.2 connectors, 2.5GB LAN, and integrated Wi-Fi.
You can even optimize your CPU with AI overclocking based on processor performance and cooling power.
Lastly, this motherboard allows you to enjoy high-fidelity audio with the embedded SupremeFX S1220A, DTS Sound Unbound, and Sonic Studio III application.
What We Like
For a top-tier gaming experience, the ROG Strix X299-E Gaming II offers the latest technology in connectivity for faster file transfers and zero lag time.
This motherboard is a DIY-friendly board that allows customization using a wide range of hardware compatibility.
Use firmware controls and software utilities to make setup, tuning, and system maintenance a walk in the park.
You may also align overclocking and cooling to your preferences while managing network performance and audio characteristics.
What We Don't Like
The device has a beefed-up VRM heatsink, which makes installation and removal of DIMMs quite tricky.
In addition to this, the I/O panel does not provide enough external USB ports.
4. EVGA X299 Dark Motherboard
Although EVGA is younger and smaller than most of its competitors, it has stunned the gaming community with the award-winning, record-breaking EVGA X299 Dark motherboard.
Product Highlights
The EVGA X299 Dark employs the best Intersil components with its new 12-phase, 60-ampere power stages.
They partnered this power with a large VRM heatsink, which uses fins instead of more aesthetic, solid-looking blocks.
For additional cooling, there are two small fans directly under the heatsink fins.
The rear of the board has a thermal pad that helps control heat coming from behind the motherboard.
The EVGA X299 Dark features a four-digit postcode display, triple BIOS, and optimized memory routing.
It has PCI Express disable switches and an essential diagnostic system.
For audio, the X299 Dark uses the Core3Di processor from Creative.
What We Like
All in all, we like that this motherboard has a dual Intel LAN with teaming support, two U.2 ports, and a combination of Type-A and Type-C USB 3.1 ports.
What We Don't Like
We don't like the PS/2 keyboard or mouse port. We think it is a whole lot better if the rear I/O panel took advantage of more high-speed USB connectivity.
The motherboard does not offer a display monitor connection, which means you will have to install a GPU.
5. Gigabyte X299X AORUS Master
Gigabyte is the third-largest producer of motherboards globally, and it did not fall short of competing in the X299 chipset market.
An exceptional X299 motherboard belonging to a long line of AORUS models is the Gigabyte X299X AORUS Master.
Product Highlights
The X299X AORUS Master uses 12 phases of infrared digital VRM and an advanced thermal solution with its triple fins array and heat pipes.
For networking, it boasts an AQUANTIA 5GbE Base-T LAN and an Intel Wi-Fi 6 connectivity with an AORUS antenna.
The X299X AORUS uses an ALC 1220-VB Audio Codec and high-quality Nichicon MW audio capacitors for onboard audio.
Slots include three M.2 connectors with thermal guards, two RGB headers, two ARGB headers, eight DIMMs, and front USB 3.2 Type-A and Type-C.
The X299X AORUS has a 2.5Gbit Realtek controller and an integrated headphone amplifier, both considerable audio upgrades.
What We Like
This could be the second-most expensive Gigabyte X299 motherboard, but this model balances its features between price and performance.
It uses the same VRM used in much more expensive Gigabyte motherboards, and it has the latest USB 3.1 and USB BIOS recovery features.
What We Don't Like
If you need additional fan headers, you will have to get a fan controller to support more fans using the X299X AORUS.
Also, the BIOS interface is poorly developed, and it lacks features to control RGB lighting.
Buyer's Guide
The motherboard will hold all the principal components of your computer, so it's very important that you choose one that meets your PC's requirements.
Here are factors to consider when buying an X299 motherboard:
1. Overclocking Capacity
One of the primary reasons you would want to change to an X299 motherboard is its overclocking capacity.
To maximize overclocking, you would want a build that has exceptional power delivery and reliable cooling capacity.
Power Supply
Most X299 boards have two CPU power supply connectors that are both eight-pin or a combination of one four-pin and one eight-pin.
Some boards offer optional use of the second connector, so you only need one power connector to run some CPUs at stock speed.
However, if you are spending money on an X299, you should have a premium power supply with two eight-pin connectors to take full advantage of voltage regulation.
Cooling Capacity
Increase the benefits of overclocking with reliable out-of-the-box cooling systems.
Check that your choice of motherboard offers flexible cooling options with its available connectors.
For a no-fuss, easy-install cooler, opt for a large tower cooler or a closed-loop, all-in-one liquid cooler.
Choice of CPU
If you want to hit a specific target with overclocking, keep in mind that your CPU choice matters more than your choice of motherboard.
Whichever X299 motherboard you choose, an i7 7820x CPU with 28 PCI-e lanes should do the trick.
2. Price
Remember: if you spend more, you should get more.
To get the most out of the cost of your motherboard, we suggest you use quad-channel RAM.
It is easier to know the cost of a motherboard than a CPU because the board you choose should reflect the features you need.
A few additional cores on a CPU, for example, can jack up its price by an additional $200.
3. Included Features
You'd also want to check out all the included features on your choice of motherboard to make sure it satisfies all of your requirements.
I/O Connectivity
For a good buy, choose a motherboard that allows high-speed Ethernet networking, preferably one that even supports Wi-Fi.
How many USB 3.0 ports do you need? Do you require a Type-C USB connection?
Does it have an extra chip for even more ports on it? Do you use Bluetooth?
Will the board have a problem connecting over an HDMI connection?
Does it have a reliable audio solution?
These are some of the most common questions you would want to be answered when purchasing a motherboard.
Slots
Decide how many SATA ports and M.2 PCI-e NVMe slots you need for your build.
You can go the extra mile on your motherboard choice by adding in some adaptor cards that make dual M.2 slots.
For a multi-tasking setup, you might want a motherboard that has more than two video card slots so that you can upgrade or adjust anytime.
Also, decide whether you want multiple options for RGB lighting or a dark, subtle setup.
X299 Motherboard FAQs
1. What is a X299 motherboard?
X299 motherboards are a line of computer main circuit boards that use the X299 chipset.
Think of the chipset as your computer's central nervous system. It connects the processor, RAM, hard drive, graphics card, and all other components.
The chipset is the main line of communication so that the computer can perform in cohesion.
Manufacturers created the X299 motherboards as a requirement for the Intel Core X-series processors, targeted at HEDT enthusiasts of the Intel lineup.
An X299 motherboard has the LGA 2066 processor socket and 24 PCI Express 3.0 lanes, a big step from the X99's eight PCI Express 2.0 lanes.
X299 motherboards also support the all-new Intel Optane storage technology, which combines RAM and an SSD.
Depending on the model, X299 motherboards also retain many features of the X99 chipset.
These features include USB 3.0 and 2.0 support, headers and mounting points, overclocking, SATA slots, flexible I/O, M.2 SSDs, and VT-d.
2. Does X299 support Xeon?
X299 chipsets and Xeon processors fall under completely different product lines that use different sockets.
Intel designed the X299 chipset for HEDTs and Xeon processors for workstations.
As such, X299 chipsets and motherboards cannot support Xeon processors.
Xeon processors are workstation CPUs that require the C422 chipset. These CPUs include all Xeon processors under the Skylake-W and Cascade Lake-W series.
3. What is HEDT?
The acronym HEDT stands for high-end desktop, a term coined by Intel that pertains to high-performance desktop computer setups that use the X299 chipset.
HEDT Computing is a large niche that allows excellent computer performance and CPU-intensive tasks.
HEDTs use processors under the Kaby Lake-X, Skylake-X, and Cascade Lake-X series.
Take note, though, that BIOS updates for X299 motherboards discontinued support for Kaby Lake-X processors since October 2019.
4. Which is better x299 vs z370?
Intel offers both the X299 and Z370 chipsets for computer-building enthusiasts.
The X299 chipset uses the LGA 2066 socket for Intel Core X-series processors, ranging from four to 18 cores, and is better for extreme multi-tasking.
On the other hand, the Z370 supports the 8th generation Intel Core processors limited to six cores.
The X299 boards do not have onboard graphics, unlike the Z370 boards, but we still recommend a graphics card.
The Z370 has a maximum of 16 PCI-e lanes, while X299 has more bandwidth for dual graphics with its 44 lanes.
While a Z370 only has 95 watts TDP and maxes out at 64GB RAM, the X299 has 165 watts and can be built with 128GB memory.
Both chipsets won't go obsolete anytime soon, but the number of X299-supported processors and the number of PCI-e lanes it has makes it more upgradeable.
You can max out both boards with 14 USB ports, but the X299 has two more SATA ports than the Z370, which holds only six.
All of these differences make the X299 the apparent choice for future-proofing and more intensive multi-threaded work applications.
However, the Z370 offers the best value for pure gaming because it does not usually require the multi-core advantage of the X299.
5. How much should I spend on a motherboard?
Different sellers put out the same motherboards at varying prices, and different motherboards vary in cost based on their features.
X299 motherboards can cost as low as $140 and as high as $800, but you don't have to spend on the high-end options to get the best X299 motherboard.
The most complete and reliable X299 boards out there fall between the $300 and $500 range.
Wrapping Up
If you want an X299 motherboard for gaming or everyday use, go for the ASUS Prime X299-Deluxe II.
It offers many upgrades compared to previous models under the same name, and it provides a direct overclocking experience.
Enjoy using wireless gaming hardware with its high-powered, short-range connectivity.
For a cheaper option, the ASRock X299 Taichi CLX offers the best value for a great price, but you can do with more ports on its rear I/O panel.
If you want to look for motherboards other than the X299, you might want to consider the X470 chipset.