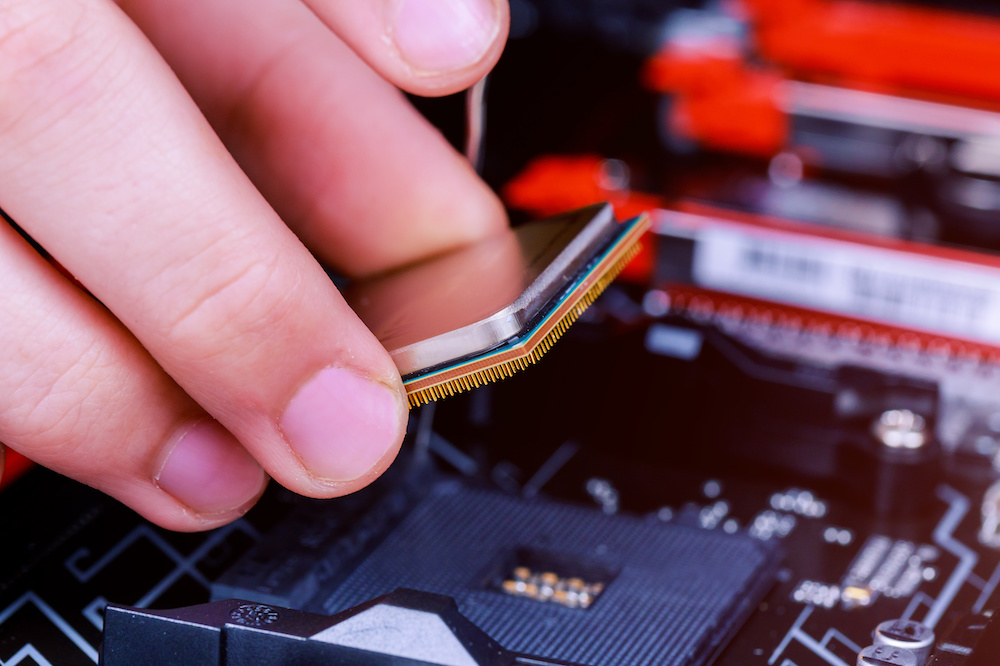 MSI H110M Gaming Motherboard Review
A good entry-level motherboard does not have to carry all the DIMM slots and expansion slots of a standard ATX board.
Regular computer workloads, high-speed gaming, and fast-paced computing can be attainable using a good quality micro-ATX motherboard.
This MSI H110M gaming motherboard review will discuss the pros and cons of having a smaller motherboard.
Micro-ATX boards save more space by allowing the use of smaller cases.
But you can use them on standard ATX cases because they have identical rear I/O panels and mounting points that are a subset of the ATX boards.
Generally, micro-ATX boards use the same power connectors present in standard ATX motherboards, which means full-size ATX power supplies also work for the micro-ATX.
We will go into the details of the MSI H110M Gaming motherboard in particular.
About MSI
Micro-Star International Co., Ltd. (MSI) is a Taiwanese multinational infotech corporation that designs and manufactures computer hardware and related products and services.
Although they make laptops, desktops, all-in-one PCs, servers, peripherals, and server computers, they specialize in designing and manufacturing motherboards.
MSI is an international conglomerate with a vast array of top-ranking products suited for entry-level and high-end computer applications.
In the third quarter of 2018, they released the MSI H110M Micro-ATX Motherboard.
MSI H110M Gaming Motherboard Review
MSI particularly designed their H110M micro-ATX motherboard for gaming.
It is jam-packed with features that enable it to run heavy-content games smoothly.
Who Is the MSI H110M Gaming Motherboard For?
The MSI H110M Micro-ATX Motherboard belongs to a medium-tier price range, but it packs a lot of value for the money you'll be spending.
While MSI geared it up for gaming, they designed it with extreme long-lasting durability.
The MSI H110M Micro-ATX can be an excellent motherboard for many applications.
Avid Gamers may find the MSI H110M excellent for a gaming platform, but entry-level computer users and regular everyday users can also benefit from it.
It is relatively easy to install and can fit both micro-ATX and standard ATX cases.
However, if you are stuck with a micro-ATX computer case and want to upgrade to a gaming motherboard, then the MSI H110M is definitely for you.
What's In the Box?
The package comes with the MSI H110M Gaming LGA1151 Micro-ATX form factor motherboard in anti-static plastic packaging.
It also comes with a driver disk, I/O shield plate, and two SATA cables.
One of the SATA cables is right-angled while the other one is straight.
The box also includes a user manual and a quick installation guide leaflet.
The package comes with a limited three-year product warranty card and a product registration card from the manufacturer.
Overview of Features
MSI designed their H110M Micro-ATX motherboard for the 6th Generation Intel Core i3, i5, i7, Pentium, and Celeron processors.
Some of its other features are:
Multiple Slots
The MSI H110M Micro-ATX motherboard uses the Intel H110 Chipset, and it requires a processor that could fit into an LGA1151 socket.
It can support up to 32 GB of memory using its two DDR4 slots.
These memory slots use a dual-channel architecture to support compatible modules up to 2133 MHz.
Since the MSI H110M motherboard has a micro-ATX form factor, it has less space for expansion slots.
It only has a single PCIe 3.0 x16 slot and two PCIe 2.0 x1 slots.
Various Ports and Connectors
For storage options, this board has four SATA 6Gbps ports.
USB options include six SuperSpeed 3.1 Gen1 ports and six High-speed 2.0 ports.
Other peripheral connectors include two PS/2 ports at the rear I/O panel.
MSI did not also neglect to provide their H110M motherboard with audio and display features.
The MSI H110M has 7.1-channel high-definition audio using the Realtek ALC887 codec, and the board supports HDMI, DVI-D, and VGA.
For networking, the motherboard uses an Intel I219V Gigabit LAN controller.
The MSI H110M motherboard has a single CPU fan connector and two four-pin system fan headers for cooling and thermal control.
Extra internal features include connectors for a TPM module, chassis intrusion, a serial port, a parallel port, and a Clear CMOS jumper.
Guard-Pro
With Guard-Pro, the MSI H110M boasts protection against different kinds of electronic system damages.
The board has a treatment for reducing humidity and moisture absorption, and it has surpassed military-grade testing for resilience against high temperatures.
Circuit protection comes from carefully selected materials, multiple PCB layers, and exceptional shielding.
The shielding protects every input and output port or slot against electrostatic discharge.
Having compliance with strict American FCC regulations, the motherboard reduces the impact of electromagnetic interference.
VGA Armor
Modern graphics cards are getting larger and heavier, making traditional PCIe slots more prone to bending and sometimes breaking.
The MSI H110M has PCIe slots that use VGA Armor, which has more reinforced, heavily-soldered connections to the motherboard.
These VGA Armor solder points are 35 percent stronger than traditional PCIe slot attachments.
Effortless Diagnostics
Like most MSI motherboards, the MSI H110M has the three EZ Debug LEDs for effortless troubleshooting and diagnostics.
You can use the LEDs to identify whether the CPU, RAM, or VGA has a problem.
Enhanced CPU Overvoltage Protection
During a power surge or short circuit, the MSI H110M motherboard automatically secures the system to protect the CPU and other components against overvoltage damage.
For easy troubleshooting, a red LED near the 24-pin CPU power connector indicates that the system has activated the overvoltage protection.
Gaming Edition CPU-Z Software
Using CPUID to develop a special version of CPU-Z, MSI has created a gaming edition software that features the MSI Gaming Dragon.
Gaming Edition CPU-Z gathers key information on main components attached to the motherboard so you can streamline the system for gaming.
It collects data regarding CPU and RAM speeds and timings, and it checks whether your BIOS is up-to-date or needs a newer version.
Dedicated Gaming LAN
With the MSI Gaming LAN, you can dominate any game using fast transfer speeds and the lowest latency.
Experience your game without any system lags, as the Intel I219 LAN delivers more throughput for better performance.
This LAN adapter reduces CPU overhead, making it more effective for FPS games.
Bandwidth Optimization for Gaming
The MSI H110M motherboard offers compatibility with the MSI Gaming LAN Manager so that you can enjoy many online games.
Optimized traffic prioritization and low latency are the MSI Gaming LAN Manager's primary objectives, and it automatically prioritizes games over other applications.
The software allows you to customize bandwidth and change the traffic priority for each application.
OBS for Streaming
The Open Broadcaster Software (OBS) is the world's most famous open-source program for live-streaming and video recording.
You can show your gaming skill to the world using this free software since it is compatible with the MSI H110M motherboard.
The OBS optimizes video by producing quality sound and images without lag while using the smallest file size.
Live-streaming is a breeze as the OBS connects to YouTube, Twitch, Hitbox, DailyMotion, and many other online streaming sites.
Gaming Certified
All MSI Gaming motherboards, including the MSI H110M, have testing certification from MSI gaming labs and internet cafes.
MSI hires renowned eSports players to test these motherboards' reliability and performance with the most famous games.
Only motherboards that clear 24-hour online and offline gaming tests get the Gaming Certified status.
The boards are certified for onboard network configuration, audio reception, and FPS performance in these tests.
How to Get the Most Out of Your MSI H110M Gaming Motherboard
To get the most out of your MSI H110M Gaming motherboard, be sure to pair it with a good CPU, sufficient RAM modules, and high-quality graphics card or cards.
Take note that these components do not have to be top-grade and expensive. They only have to be functionally and feature compatible.
It is not feasible to get a PC component with a feature that you cannot use because the MSI H110M doesn't support it.
Instead, choose components with features that you can maximize with the help of the MSI H110M.
Alternative
You may be stuck with a micro-ATX computer case, but it doesn't mean your choices are restricted.
Asus, another world leader in motherboard design and manufacturing, also has a cheaper H110M mATX motherboard.
Check out the Asus H110M-A Micro-ATX Motherboard.
It has the same number of memory slots as the MSI H110M Gaming, but it has one less PCIe slot, which may be the reason why it costs less.
However, the Asus H110M-A offers the same hardware safeguards for all-around protection.
It allows advanced cooling control and provides epic gaming audio with LED-illuminated shielding.
Verdict
As stipulated in this MSI H110M gaming motherboard review, the motherboard in question may not be as impressive as other top-tier Intel chipset motherboards.
But the MSI H110M is a promising contender for people who decide that they love gaming.
It doesn't break the bank, yet it still provides a new hobbyist with the best online and offline gaming experience.
With its Guard-Pro features and military-grade components, it will keep up with any game you throw at it for years to come.
That said, if you are a gamer and only play very specific games, check the system requirements and compare them with the MSI H110M before purchasing.