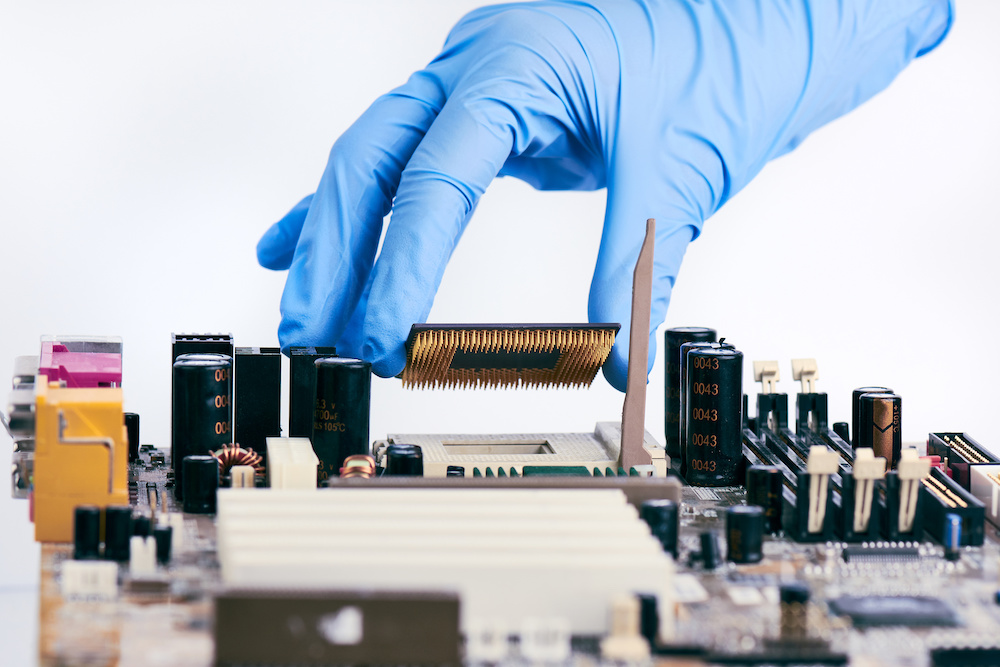 Asus ATX DDR3 2600 FM2 Motherboard Crossblade Ranger Review
---
<!–googleoff: index–>We may earn a commission for purchases using our links. As an Amazon Associate, we earn from qualifying purchases.<!–googleon: index–>
---
If you have been an AMD Athlon processor user for a long time, the Crossblade Ranger motherboard must have crossed your sights at some point.
The thing is, PC builders using Threadripper and Ryzen processors may not know that the Athlon and APU lineup can also take advantage of ROG features.
We made this Asus ATX DDR3 2600 FM2 Motherboard Crossblade Ranger review so that you can have a primary resource about this particular motherboard.
Before going into the details, let's discuss what the Crossblade Ranger is, who can benefit from it, and what items it includes.
Asus ATX DDR3 2600 FM2 Motherboard Crossblade Ranger Review
The Asus Crossblade Ranger is a ROG motherboard with an ATX form factor and an FM2/FM2+ processor socket.
Asus released it in the third quarter of 2014, separate from its A88X and A55 motherboard lineups for the FM2+ processors.
Who Is This Product For?
AMD Accelerated Processing Units (APUs) have been around for some time now.
However, it took longer for Asus to build a ROG motherboard for the processor lineup.
Today, AMD APU enthusiasts can enjoy the features from the Crossblade Ranger, the first ROG FM2+ motherboard.
Alternatively, ROG enthusiasts can now start working with AMD's APUs.
Nonetheless, you don't have to be a fan of AMD APUs or ROG products to get this board to do your bidding.
If you love having multiple options for firmware and software tweaking, the Crossblade Ranger is also for you.
It offers a very simplistic approach to overclocking using Asus' outstanding UEFI BIOS Utility and what-not.
What's Included?
Before diving into the features of the Crossblade Ranger, you might also want to know what goodies and extras come in the packaging.
The Crossblade Ranger arrives with an instruction manual and a driver DVD that includes a free AntiVirus subscription.
You also get four SATA cables, a rear IO shield with padding, a USB connector, and a front-panel IO connector.
The freebies included in the box are a ROG mouse pad and a door hanger.
The door hanger says "Do Not Disturb" on one side and "Enter" on the other.
Overview of the Features
Need help deciding whether the Asus Crossblade Ranger is the right motherboard for your next PC build? We've got you.
The Crossblade Ranger has an ATX form factor, so be sure you have the right size computer case.
Once you already have the right PC case, go over the following details carefully.
Each of them will tell you if the Crossblade Ranger packs all the components that you need.
Chipset and Compatible Processors
The Crossblade Ranger motherboard has the AMD A88X FCH (Bolton D4) chipset.
Before the Zen Architecture AM4 Chipsets, AMD Accelerated Processing Units (APU) only used Fusion Controller Hubs (FCH).
One of the FCH Chipsets is the A88X. Other CPUs still used the Northbridges and the Southbridges.
The capability of FCH Chipsets to work for accelerated processors kept them available for AMD's product range alongside the Zen Architecture models.
The Crossblade Ranger motherboard uses the AMD FM2+ socket, which means it is a motherboard for AMD Athlon and A-Series processors.
The Crossblade Ranger has four DIMM slots capable of holding up to 64GB of RAM.
These memory slots use the DDR3 system, which is overclockable up to around 2600MHz.
You can acquire extensive multi-graphics capabilities using the Crossblade Ranger motherboard.
It has two PCIe 3.0 x16 slots running on either x16/x0 or x8/x8 mode. A third PCIe 2.0 x 16 slot uses four lanes.
With the three PCIe x16 slots, you can run three graphics cards simultaneously.
Additionally, the board has two PCIe 2.0 x1 slots and two PCI slots for smaller expansion cards.
All four extra expansion slots run through the A88X chipset.
Storage Interface Allocations
Looking at its storage interface, the Crossblade Ranger has eight SATA3 6Gb/s ports.
Asus taps all of these storage slots through the A88X chipset.
While eight SATA ports are more than adequate for maximizing storage space, some users might need even more ports.
Furthermore, the Crossblade Ranger does not have any M.2 slots.
Buyers who want to take advantage of the next-generation storage standard can only benefit from storage drives for PCIe slots.
Otherwise, an entirely different board with an M.2 slot or two may not be out of the question.
The Crossblade Ranger uses an Extreme DIGI+ III VRM.
It comprises eight alloy chokes, 10K black metallic capacitors, and NexFET MOSFETs for power delivery.
These components, coupled with massive heatsinks, ensure that there would be no problems regarding heat dissipation.
In addition to the overall power delivery design, the Crossblade Ranger offers fan control for two combined CPU fan headers and three chassis fan connectors.
You can choose from different profiles, including silent, standard, turbo, or full-speed.
The board also allows you to set manual profiles based on source temperatures.
Each fan has three temperature and speed points for manual control.
The Crossblade Ranger receives some of the features already present on many higher-tier Asus ROG boards.
These features include the high-end Intel Gigabit Ethernet adapter with Asus LANGuard and GameFirst III software.
The Asus LANGuard protects the board from power surges and increases overall throughput.
The GameFirst III app allows you to optimize data transfers and allocate more bandwidth if necessary.
Unfortunately, the Crossblade Ranger has no provisions for wireless connectivity, such as Wi-Fi and Bluetooth.
If you need these components, you will have to purchase a wireless AC adapter separately.
Other excellent additions predominantly present on ROG motherboards include the SonicRadar 2.0 and the SupremeFX.
With the help of Japan-made ELNA caps, a shielded EMI, and a dedicated Soundstage button, these two add-ons greatly improve a user's overall audio experience.
Using a Realtek ALC1150 codec with an amplifier, the Crossblade Ranger produces eight-channel high-definition audio.
The board also has a S/PDIF out port, capable of real-time multi-channel encoding via DTS Connect.
Finally, all of these audio components allow surround-sound virtualization via DTS Neo: PC.
Appearance and RGB Aesthetics
Upon taking the Crossblade Ranger out of its box, you will notice many physical features that are undeniably Asus ROG in nature.
The red and black paint job and the ultramodern heatsinks are all ROG trademarks.
Apart from the LED-backlit Start button on the upper right side, the motherboard does not offer other built-in aesthetic LED lights.
Moreover, it does not have any provisions for third-party RGB strip lighting.
The back panel connectors include a PS/2 combo port, two USB 2.0, an HDMI, a D-sub, a DVI, a BIOS FlashBack button, four USB 3.0, and an RJ45 Anti-surge LANGuard port.
The USB 2.0 ports work as the KeyBot ports. You will also find six gold-plated audio jacks and an optical S/PDIF port.
Other Internal Features and Connectors
The internal features of this motherboard include a ROG_EXT header, a Slow Mode switch, and separate buttons for KeyBot, Clear CMOS, MemOK!, Reset, and Start.
The board also has a two-digit Q-Code LED display for easier diagnostics.
All of these enable overclocking enthusiasts to go about high-performance system loads effortlessly.
The internal connections also allow additional USBs, including four 3.0 and six 2.0.
How To Get the Most Out of It
To get the most out of the Crossblade Ranger, take advantage of its multi-graphics capabilities using the available expansion slots.
Each expansion slot uses a ROG Q-Slot feature, allowing effortless installation and replacement of compatible graphics cards.
You can also put the Crossblade Ranger to good use by testing your overclocking skills.
With the Q-Code display and KeyBot, Clear CMOS, MemOK!, Reset, and Start buttons, overclocking procedures can be a breeze.
Alternatives
Asus took their time to create a ROG motherboard for the FM2+ socket, but they made sure it has all the best features.
Not quite impressed with what the Crossblade Ranger has to offer?
Check out the Gigabyte G1.Sniper A88X or the MSI A88X-G45 Gaming motherboards instead.
Both have the FM2+ socket for AMD APUs and multiple x16 expansion slots.
However, keep in mind that while these boards have support for multi-graphics functionalities, they lack support for the newest M.2 storage drives.
Both boards also lack RGB aesthetic features, unlike boards with AM4 sockets requiring the Ryzen processors.
Conclusion
Apart from falling short on RGB aesthetics, the Asus ROG Crossblade Ranger is, by far, the best FM2+ motherboard that money affords.
If you find the features detailed in this Asus ATX DDR3 2600 FM2 Motherboard Crossblade Ranger review inadequate for your needs, you might want to check out other platforms.
Many Ryzen processors can also give you what you need, and they can be even better with the best X470 motherboards.
However, if you want to stay with Athlon processors, you'll be glad to know that these X470 chipset motherboards can support them just fine.