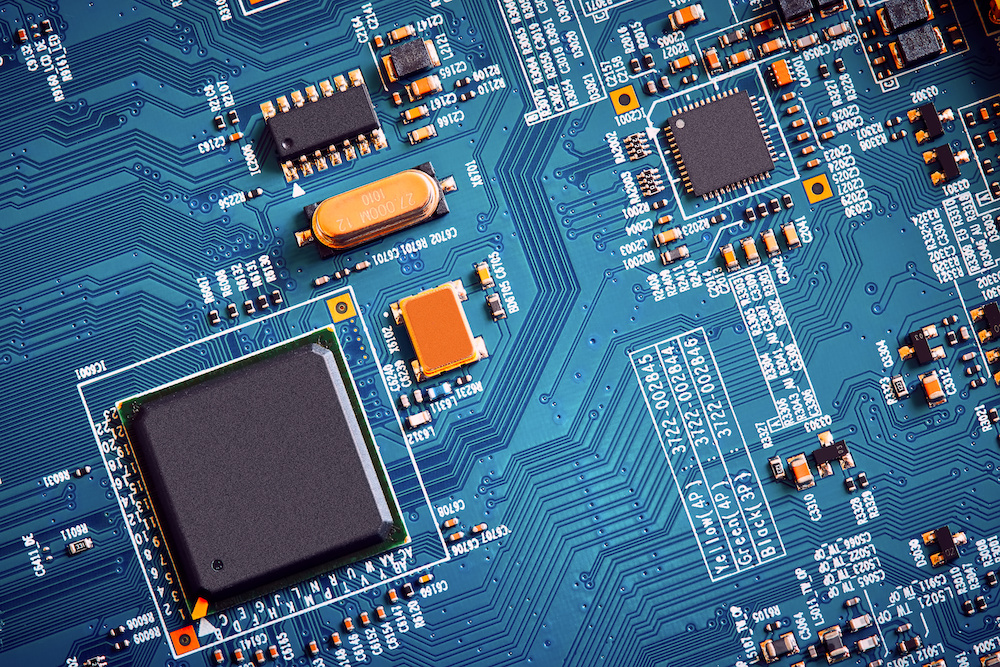 Best AM4 Motherboards of 2021: Complete Reviews With Comparisons
---
<!–googleoff: index–>We may earn a commission for purchases using our links. As an Amazon Associate, we earn from qualifying purchases.<!–googleon: index–>
---
Choosing the best AM4 motherboard allows you to take advantage of AMD's flagship X570 chipset.
It's a premium option with fully integrated PCIe 4.0 support paired with incredible lanes for graphics cards and SSD.
Here are a few feature-packed motherboards to keep your eye on when considering upgrading or building your next rig.
Comparison Chart
ASRock AM4/X570 Motherboard
ASUS ROG Strix B550-F Gaming Motherboard
ASUS ROG X570 Crosshair VIII Hero Motherboard
GIGABYTE X570 AORUS Ultra Gaming Motherboard
MSI Gaming Plus X570 Motherboard
Best AM4 Motherboard Reviews
1. ASRock X570 Extreme4 Motherboard
Designed for extreme power, this motherboard has a slew of built-in integrations for easy setup.
You'll appreciate its DIY-friendly design paired with high-end RGB functions.
Review
The ASRock X570 Extreme4 Motherboard has plenty of fantastic features for you to use to your advantage.
Limited system performance is a thing of the past when using AMD Smart Access Memory.
This intuitive software allows you to expose the full potential of your GPU memory, removing bottlenecking.
After your first use, you will experience enhanced efficiency with significantly improved performance.
The most spectacular feature of this motherboard is the fact that it works with new-gen PCIe 4.0.
Compared to the third-gen options, you'll have twice the performance speed within the same, small component.
You'll love the enhanced steel slot that also features extra anchor points for reliability and stability.
When dealing with single-bit memory errors, error-correcting code (ECC) is essential.
The ASRock X570 Extreme4 Motherboard is equipped with ECC un-buffered memory modules, offering impeccable durability.
This feature is remarkable for higher-end computing systems, including financial computers.
Customizing your setup is one of the best parts of building your PC.
Using Polychrome RGB, users will find the ideal lighting configuration for all of their components.
The software is intuitively designed to fully control RGB lighting in your chassis, LED strips, fans, coolers, and more.
Protecting your motherboard from electrostatic charges is of the utmost importance to ensure integrity.
Fortunately, the IO shield on this model is crafted using flexible materials, allowing you to easily fit the device into your chassis.
You will find that it is easily manipulated during installation while still protecting your sensitive components.
All of the sturdy components built into the motherboard are exceptional for CPU power.
You will find the sturdiness of the parts allows for optimal power delivery.
Also, the unique IO power phase design offers lower temperatures and impressive overclocking capabilities.
One concern that many PC users have is that the majority of motherboards don't contain Thunderbolt headers.
This model is one of the first to fully implement Thunderbolt 3 tech, as long as you have an AIC R2.0 card.
There is no doubt that this motherboard has a ton of durable and stable features built into its design.
You will find an extra-large aluminum alloy heatsink, helping to dissipate warm temperatures away from your MOSFET.
You will also have access to 60A power chokes to improve saturation currents while maintaining improved Vcore voltages.
Each capacitor is equipped with black caps, offering 20 percent longer lifespans paired with 820uF and 100uF capacitors.
One of the favorite features of the ASRock X570 Extreme4 Motherboard is its IO armor.
The unique protective cover ensures all of the most crucial points of the rear IO are shielded against static electricity.
2. ASUS ROG Strix B550-F Gaming Motherboard
The ASUS ROG Strix B550-F Gaming Motherboard is a superb gamer-friendly option that offers high-end features.
More than anything, you'll love that you will have special power delivery through the latest PCIe 4.0 tech as well as futuristic aesthetics.
Review
Let's look at some of the most impressive details of the ASUS ROG Strix B550-F Gaming Motherboard.
There's no hesitation that this motherboard is designed with performance in mind, especially for pro gamers.
You will find several phenomenal components, such as multi-GPU CFX support for PCIe 4.0 and PCIe 3.0.
The motherboard also offers 12+2 power stages as well as two individual M.2 sockets.
Keeping your motherboard at a low temperature is easy with this board's built-in cooling components.
It has several key features that keep your components cool, including multiple four-pin PWM fan headers.
You will also appreciate the chipset heatsink paired with dual M.2 heatsinks and a VRM heatsink.
When playing your favorite game, you will want the most immersive experience possible.
The ASUS ROG Strix B550-F Gaming Motherboard offers IO zone aura lighting, pulling the whole aesthetic of your motherboard together with integrated RGB.
You will also love the audio quality it provides through Sonic Radar II DTS Sound Unbound and the Sonic Studio Virtual Mixer.
There's no doubt you will have multiple connectivity options with this unit, ideal for an assortment of peripherals.
This board is equipped with two USB 2.0 ports and two USB 3.2 Gen 2 ports, followed by four USB 3.2 Gen 1 ports.
For networking, you will have one Intel I225-V 2.5Gb Ethernet port.
You can effortlessly manage the display through either the DisplayPort 1.2 or the built-in HDMI 2.1 (4K at 60Hz) port.
Several examples of additional connectivity options include:
Two other USB 3.2 Gen 1 ports
Six SATA at 6Gb/s
Thunderbolt header
Five audio jacks
Optical S/PDIF output
As mentioned, this motherboard is natively built to support PCIe 4.0.
With two M.2 slots, one of which for PCIe 4.0, you will have fantastic storage flexibility with faster data speeds.
Both of the integrated slots support type 22110 sockets and NVM Express RAIDs for even more impressive performance.
The vast majority of modern motherboards feature an ample number of DIY-friendly features.
If this is your first time building a PC, you will love the user-friendly specs of this motherboard, including the pre-mounted IO shield.
It also boasts four onboard LEDs that indicate the power status of your components while signaling you to errors.
3. ASUS ROG X570 Crosshair VIII Hero Motherboard
There is nothing better than having a motherboard designed for current and future uses.
The ASUS ROG X570 Crosshair VIII Hero Motherboard has plenty to offer, especially if you need a powerful, rugged MB.
Review
Let's review some of the most impressive features the ASUS ROG X570 Crosshair VIII Hero Motherboard has to offer.
Maximized Speed and Connectivity
This motherboard is one of the best options for AMD Ryzen 2nd and 3rd generation processors.
You will find that it comes with two M.2 drives, AMD StoreMI for maximized connectivity, and USB 3.2 Gen2 ports.
Compared to other motherboards, this model has a sleek and stylish appeal packed with fast features.
This entire unit boasts temperature control, protecting the integrity of your components.
You will find a fully active chipset heatsink paired with an M.2 aluminum heatsink.
Using ROG Cooling Zone allows you to customize how your cooling system is put to use for high-performance computing.
If power is what you are looking for, you will love the unique power solution on this motherboard with 14+2 IR3555 PowIRstages.
It is also designed with ProCool II power connectors and 10k Japanese-made metal capacitors.
When paired with the microfine alloy chokes, you will find all of your components will talk to each other with less interference.
When gaming, having an optimal connection is essential for anyone, especially for FPS games.
The advanced networking features in this board are remarkable, featuring integrated 2.5Gbps ethernet and Gigabit ethernet.
Both components are protected by ASUS LANGuard protection and offer native support for GameFirst V software.
One of the more impressive features of ASUS motherboards is how easily they are to fine-tune to your specifications.
This model also features 5-Way Optimization, allowing you to create custom cooling and overclocking profiles.
When designing your first PC, the process can be intimidating, especially with the sensitivity of your components.
The ASUS ROG X570 Crosshair VIII Hero Motherboard gives you peace of mind by offering several key DIY-friendly features.
You'll have a pre-mounted IO shield paired with BIOS FlashBack to get your rig ready to go as quickly as possible.
There's also the integration of ASUS SafeSlots, which ensures your components are effortlessly secured after installation.
All of the components are designed with longevity in mind, which makes working with your parts much simpler.
Having a more immersive listening experience is essential for the vast majority of games.
In line with that, you will love the industry-leading ROG audio in this device, offering ROG SupremeFX S1220.
Every soundtrack will deliver high-fidelity listening experiences to headsets.
4. GIGABYTE X570 AORUS Ultra Motherboard
The GIGABYTE X570 AORUS Ultra Motherboard is designed with plenty of contemporary features to meet your current and future needs.
With AORUS-specific integrations and high-powered performance, it is a robust option for a gamer-friendly motherboard.
Review
There are several unique features the GIGABYTE X570 AORUS Ultra Motherboard has to offer, such as:
The most notable feature of this motherboard is that it's designed to accommodate AMD Ryzen 5000 Series processors.
You'll have access to PCIe 4.0 support, USB Type-C interfaces, and a fully designed Wi-Fi feature for improved networking performance.
When it comes to unleashing the true power of your rig, this motherboard is a fantastic solution.
AMD StoreMI is essential for maximizing the storage of your devices and reducing boot times.
With an enhanced overall experience, you will find that your SSD's actual functionality will be used, as will your HDD.
Users will notice a significant improvement in data performance, especially when accessing key files.
More than anything, you'll find that this model aims to deliver enhanced performance, similar to other AORUS motherboards.
It boasts a robust architecture with 12+2 digital power phases and double copper PCBs.
When paired with the full PCIe 4.0 design, you will have PCIe 4.0 hardware with an integrated M.2 thermal guard.
Along with the M.2 slot thermal protection, other features are designed to reduce your PC's temperature.
There is unique heat piping hardware that helps lower MOSFET temperatures by up to 30 percent.
There's also a thermal conductivity pad, responsible for dissipating heat up to 300 percent more effectively than traditional heatsinks.
When using your own cooling setup, you will find plenty of customizable options.
For instance, this motherboard's Smart Fan tech allows you to choose between different cooling modes to minimize noise and usage.
Alternatively, you can use higher-speed cooling options to protect your interior components when working with heavier loads.
Next-Generation Connectivity
Gamers and average computer users will no longer have to worry about previous-gen connection options.
The GIGABYTE X570 AORUS Ultra Motherboard features futureproof connections, including Intel Wi-Fi 6 and Intel GbE LAN for reliable networking.
You'll also love the integrated AORUS antenna and the HDMI 2.0 and USB Type-C connection options.
There's nothing better than having a fully immersive listening experience through speakers and headsets.
With the help of AORUS Audio, you will have the latest Realtek HD audio codec, improving volume and distortion.
As an added benefit, the VB series audio controller also drastically improves the quality of your microphone.
To really make your setup unique, always consider the benefits of adding RGB lighting to your rig.
This motherboard is preloaded with RGB Fusion 2.0 compatibility, allowing you to customize LED strips.
You will find an assortment of customizable features, including various colors and lighting patterns.
5. MSI Gaming Plus X570 Motherboard
The MSI Gaming Plus X570 Motherboard is designed to offer many of the same conveniences as most MSI motherboards.
However, this model is equipped with future-facing compatibility, working with the latest X570 chipset.
Review
Let's look at some of the most impressive features of the MSI Gaming Plus X570 Motherboard.
Compared to other motherboards, this one has exclusive features specifically designed for performance.
The integrated Core Boost technology offers 8+4 pin power connectors designed in an optimized layout for maximum performance.
You will also find an integrated IR digital power system, ensuring your PC always runs as smoothly as possible.
With the help of PCIe steel armor, your VGA cards will finally have the protection they need against EMI.
Also, this model features server-grade PCB, enhancing the performance of PCIe 4.0 for longevity and stability.
The faster your PC works, the more valuable it will be and the less clunky it will feel while gaming.
The MSI Gaming Plus X570 Motherboard boasts high-speed transmission features, including DDR4 Boost.
You'll access a completely isolated DDR circuit designed for optimal overclocking and gaming performance.
With the addition of AMD Turbo USB, you can take advantage of a reversible connector for Type-C.
Another hefty benefit is the Lightning Gen 4 Solution, offering up to 64GB/s bandwidth for optimal transfer speeds.
Improved Thermal Solutions
There's nothing better than having peace of mind that your motherboard is effortlessly managing your computer's temperature.
With the improved thermal solutions of this unit, you will have four different technologies for heat dissipation.
First, there is an extended heatsink installed to protect even the highest-end processors that generate ample heat.
Another feature is the FROZR heatsink, which is designed with double ball bearings to offer onboard cooling.
Then, with the help of Zero FROZR Technology, the AI tuning system will automatically adjust your fan speed.
Depending on the temperature of your motherboard, the AI will effortlessly manage cooling while reducing fan noise.
The final unique thermal solution is M.2 Shield FROZR, which is also its most impressive feature.
With M.2 Shield FROZR, a unique thermal accessory is added to the M.2 SSD slots, preventing excessive throttling.
As with any motherboard, your setup isn't complete unless you have RGB lighting controls.
Using Mystic Light, you can create a unique aesthetic for your office by using all of your peripherals.
This software is packed with millions of color schemes and color variations to sync across all RGB-compatible devices.
Another impressive feature of the MSI Gaming Plus X570 Motherboard is its sound technology.
With the use of Audio Boost, you'll have studio-grade sound quality to improve your gaming experience.
This feature is iconic for speaker lovers and when you're using a headset for a more immersive experience.
Which AM4 Motherboard Is Best?
The ASUS ROG X570 Crosshair VIII Hero Motherboard is an excellent option for the best AM4 motherboard.
It boasts a high-quality construction with stunning aesthetics that will fit in seamlessly with an assortment of builds.
Its impressive data transferring speeds and user-friendly installation make it an excellent option for gamers of all skill levels.
With this running and holding everything together, you can expect the best experience for years to come.