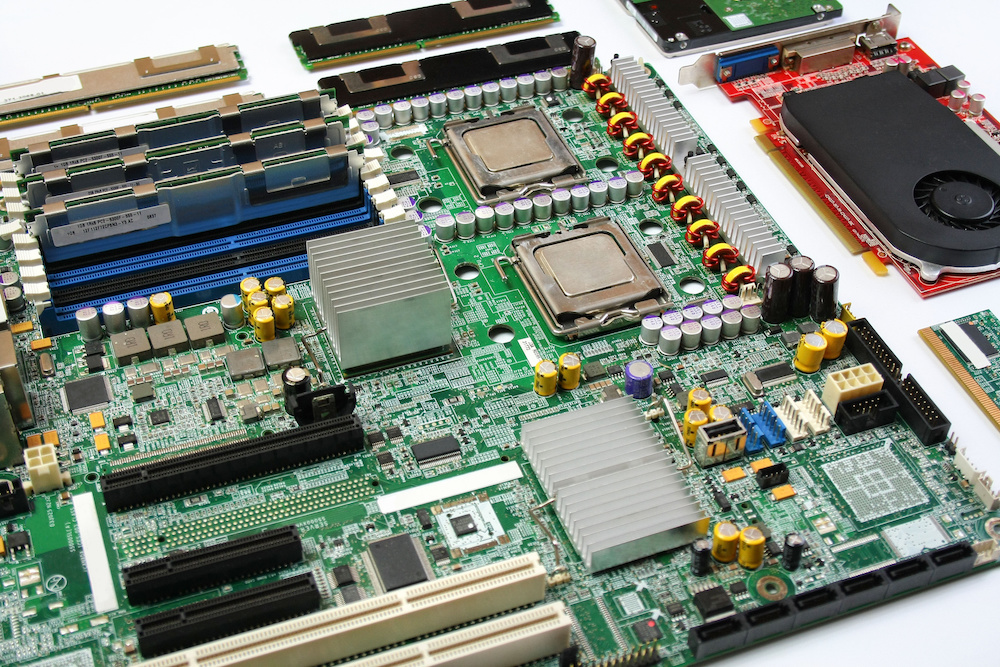 Best B550 Motherboards of 2021: Complete Reviews With Comparisons
---
<!–googleoff: index–>We may earn a commission for purchases using our links. As an Amazon Associate, we earn from qualifying purchases.<!–googleon: index–>
---
Finding the best B550 motherboard will give you plenty of flexibility combined with improved NVMe storage.
Several available models are offering higher-quality graphics paired with PCIe 4.0 connectivity.
Let's review five of the best options to consider when shopping for your next motherboard.
Comparison Chart
ASUS ROG Strix B550-E Gaming Motherboard
MSI MAG B550M Mortar Gaming Motherboard
ASRock B550 Taichi Motherboard
ASRock B550M-HDV Motherboard
MSI MAG B550 TOMAHAWK Gaming Motherboard
Best B550 Motherboard Reviews
1. ASUS ROG Strix B550-E Gaming Motherboard
The ASUS ROG Strix B550-E Gaming Motherboard is designed with next-level gaming in mind.
It has plenty of recently updated features, making it one of the better AMD CPU-compatible 3rd Gen options available.
Review
Let's look at some of the most impressive features of the ASUS ROG Strix B550-E Gaming Motherboard.
The most impressive feature of this motherboard is that it features built-in PCIe 4.0 support.
You'll find two individual M.2 slots, one of which is designed for updated PCIe 4.0 connectivity.
Users will be able to access significantly improved data transfer speeds as well as better storage flexibility.
If networking and connectivity were concerns with your previous motherboard, this model is a significant improvement.
Both its integrated ethernet and Wi-Fi option are recommended for considerably faster internet speeds.
For Wi-Fi, you'll have onboard Wi-Fi 6, offering ultra-fast networking speeds paired with improved performance and stability.
Ethernet gamers are bound to experience a whole new level of reduced lag and latency with Intel 2.5G ethernet.
You'll be able to connect your PC using a wired connection to experience up to 2.5x faster networking speeds.
Another significant issue that other motherboards have is poor heat dissipation, leading to the destruction of components.
The ASUS ROG Strix B550-E Gaming Motherboard is designed to be cooler than its competitors.
There are multiple monitored temperature sources paired with an AIO pump fan header.
You'll also experience an enlarged chipset heatsink.
This feature combines with an enlarged fanless VRM and four-pin PWM/DC fan header too.
Interestingly, all ASUS motherboards feature noise-canceling software to offer a higher-quality experience.
You'll find the AI noise-canceling tech is available for Bluetooth, 3.5mm, and USB mics alike.
With this technology, you'll be able to get rid of distracting mouse clicks, environmental noise and have a higher-quality audio input.
There are five different ways that you can balance the performance of your PC to meet your specifications.
With ASUS' 5-Way Optimization, wide tuning your entire system has never been simpler.
Users will have access to a TurboV Processing Unit paired with AI Suite 3 to manage system stats and overclock settings.
You'll also be able to monitor your Energy Processing Unit to improve power consumption while adjusting cooling options through Fan Xpert 4.
As another feature, the motherboard has Digi+ Voltage-Regulator Mode for real-time power-efficiency controls.
Lastly, you can personalize your rig via the Turbo App, allowing you to design and apply computing profiles intuitively.
2. MSI MAG B550M Mortar Gaming Motherboard
The MSI MAG B550M Mortar Gaming Motherboard is equipped for heavy-duty tasks, offering an improved user experience.
It pairs a simple, user-friendly interface with impressive stats ideal for entry-level and mid-tier gamers.
Review
Let's take a look at the best things the MSI MAG B550M Mortar Gaming Motherboard has to offer.
Managing your computer's cooling is effortless with the technology built into this motherboard.
Like other MSI units, you'll have an extended heatsink design, which helps keep the device's temperature lower.
You will also find enhanced power solutions, maximizing the efficiency of your components to reduce heat production.
As an added benefit, M.2 SHIELD FROZR technology is added, offering improved SSD performance with thermal protection.
Using user-friendly fan controls, you can adapt the specific settings of your cooling system to accommodate your computer's temperature.
There are two critical boosts that this model offers: Core Boost and Game Boost.
With Core Boost, you'll find the improved power design to offer incredible CPU delivery with precision.
This feature is most helpful if you are using a multi-core CPU performing demanding operations.
Game Boost is an intuitive technology built for gamers, offering one-second overclocking.
Thanks to this, you'll begin to notice a significant improvement in your FPS, especially when playing online games.
With the use of Lightning Gen 4 M.2, your data transfer speeds will be much faster than expected.
In fact, this technology is one of the fastest storage solutions on the market, providing speeds up to 64Gbps.
In addition, you will have a second M.2 slot for 32Gbps data transfer.
The BIOS for your motherboard is one of its most essential features when managing settings.
The MSI MAG B550M Mortar Gaming Motherboard comes equipped with MSI Center, a well-rounded software utility suite.
You'll find several fantastic customization options, including:
True Color: Optimize the brightness and color of your monitor
Live Update: Stay up to date with the latest from MSI
User Scenario: Customize your computer by creating profiles based on your preferences
Hardware Monitor: Receive immediate access to all of your most important hardware information
OC Setting: Adjust your motherboard's settings for optimized cooling and core performance
Total Fan Control: Take control of your fan system by setting specific temperature targets
Mystic Light: Tailor the look of your setup using intuitive RGB-friendly controls
One of the most impressive features of this user-friendly motherboard is its IO shielding.
When putting your rig together, this addition makes the process safer and easier to manage.
You'll have fully integrated protection to prevent electrostatic discharge from damaging your sensitive components.
3. ASRock B550 Taichi Motherboard
If you're searching for a motherboard that supports Ryzen 3000 to 5000 Series processors, this is a great option.
The ASRock B550 Taichi Motherboard has plenty to offer, including five PCIe slots, dual graphics output options, and more.
Review
There are several key features that the ASRock B550 Taichi Motherboard offers, such as:
As expected with B550 motherboards, this board features PCIe 4.0 with enhanced versatility.
You'll experience higher levels of bandwidth and computing speeds paired with incredible performance.
This model comes AMD Ryzen 5000 desktop-ready, so all you have to do is take advantage of the user-friendly board.
Enhanced Thermal Protection
The thermal protection in this motherboard is one of its best features, especially with heatsink armor.
With the addition of aluminum alloy, you'll have improved heat dissipation as well as a strong M.2 cover.
Another significant contributor to the overall quality of this motherboard is its metal backplate, which optimizes airflow.
As a recent update, this motherboard also features Nahimic Audio, known for its incredible performance.
Whether you're using internal speakers or headphones, this program offers an engaging listening experience.
Developed by SteelSeries, you'll find environmental sounds and music become more vibrant.
The best part is that it also comes with customizable features.
Improved Game Performance
Another unique feature of this motherboard is that it supports PCIe 4.0 x8/x8.
You'll be able to install an x16 graphics card while maximizing the potential of PCI 4.0 x8/x8 tech.
It arrives ready to use with games that are Vulkan- or Microsoft DirectX-ready.
Wi-Fi 6 and Intel 2.5G LAN
It's time to take a step into modern computing with significantly improved wireless internet speeds.
The built-in Wi-Fi function is perfect for Wi-Fi 6 802.11ax, offering speeds as high as 2.5Gbps.
The adapter also works with 5Ghz and 2.4Ghz networks simultaneously.
People who prefer wired connections will undoubtedly be impressed by Intel 2.5G LAN, which offers higher bandwidth.
This feature is crucial for people in metro areas, giving them a more isolated signal.
Also, these connection options offer enhanced stability, lower CPU usage, and the best possible throughout.
4. ASRock B550M-HDV Motherboard
The ASRock B550M-HDV Motherboard is a great entry-level option for those looking for basic, essential features.
It has six USB ports, Gigabit LAN, and a six-power phase design.
Review
There are several great features the ASRock B550M-HDV Motherboard has to offer, including:
This motherboard is designed for moderate computing power, making it ideal for office PCs.
You'll find that it also has adequate overclocking capabilities while maintaining the lowest possible temperatures.
Paired with the six-power phase design, you'll also have a premium 50A power choke.
When dealing with PCIe slots, you'll find that this motherboard has what you need.
It contains PCIe 4.0 M.2 slots, allowing for twice the computing speed as previous generations.
Overall, your data transfer will be significantly buffed compared to older, laggier models.
Having AMD Smart Access Memory on your motherboard is a great feature, especially for beginners.
You'll be able to take a look at the full potential of your GPU, helping reduce bottlenecks.
This feature is also optimal for improving your PC's performance.
High-Resolution Graphics Output
As with most modern motherboards, the ASRock B550M-HDV Motherboard also offers high-def output resolutions.
You'll be able to manage 4K at 60Hz with the built-in HDMI port.
Along with the 4K HDMI, users will also have D-Sub and DVI-D connection options.
Protecting your components against power surges is incredibly important.
With the implementation of Full Spike Protection, you can protect your system from voltage spikes over time.
This feature is essential for ensuring your PC's longevity after years of use.
There's no doubt that this motherboard is durably designed, making it ideal for first-time builds.
You'll appreciate the 50A power chokes that offer enhanced Vcore voltage.
The sleek, matte black PCB has a mysterious allure that pairs perfectly with most rigs, as does the high-density glass fabric PCB.
5. MSI MAG B550 TOMAHAWK Gaming Motherboard
The MSI MAG B550 TOMAHAWK Gaming Motherboard features a premium hardware design with DIY-friendly features.
You'll find many useful functions built into this top-tier MSI motherboard, ideal for casual and professional gamers.
Review
Let's review some of the most beneficial features this motherboard has to offer.
Managing the temperature of your PC has never been simpler than with MSI's cooling technology.
You'll have an enhanced thermal solution with an extended PMW heatsink and innovative circuit design.
There's also the addition of M.2 SHIELD FROZR, designed to keep your M.2 slot cool and controlled.
Paired with the benefit of complete fan control, you can customize your rig's cooling settings.
Also, the motherboard is designed to be pump fan-ready.
Two critical areas of focus for this device are its storage and connectivity options.
For storage, you'll have one Lightning Gen 4 M.2 slot for 64Gbps data transfer paired with a 32Gbps M.2 slot.
There are also six additional slots for 6Gbps data transfer speeds.
The connectivity of this model is enhanced for gamers, offering phenomenal audio and improved LAN networking.
You'll have access to 2.5G and 1G LAN with low latency and high bandwidth.
Using the LAN manager, you can effortlessly optimize your gaming experience to prioritize specific applications and traffic.
If you've never built a PC before and are worried about electrostatic charge, IO shielding is imperative.
This unique tech is built into the MSI MAG B550 TOMAHAWK Gaming Motherboard and protects your components.
You'll have improved EMI protection as well as a much simpler time getting your setup together.
Not only does this model feature PCIe 4.0, but each of the slots is designed with steel armor.
This protective benefit ensures the most important components of your computer are adequately protected.
This point is significant for using multi-GPU setups.
Which B550 Motherboard Is Best?
The best B550 motherboard is the MSI MAG B550M Mortar Gaming Motherboard.
It features optimal heat dissipation with onboard PCIe 4.0 compatibility that is ideal for modern gamers.
You'll love the design of the BIOS as well, making it effortless to customize as needed.