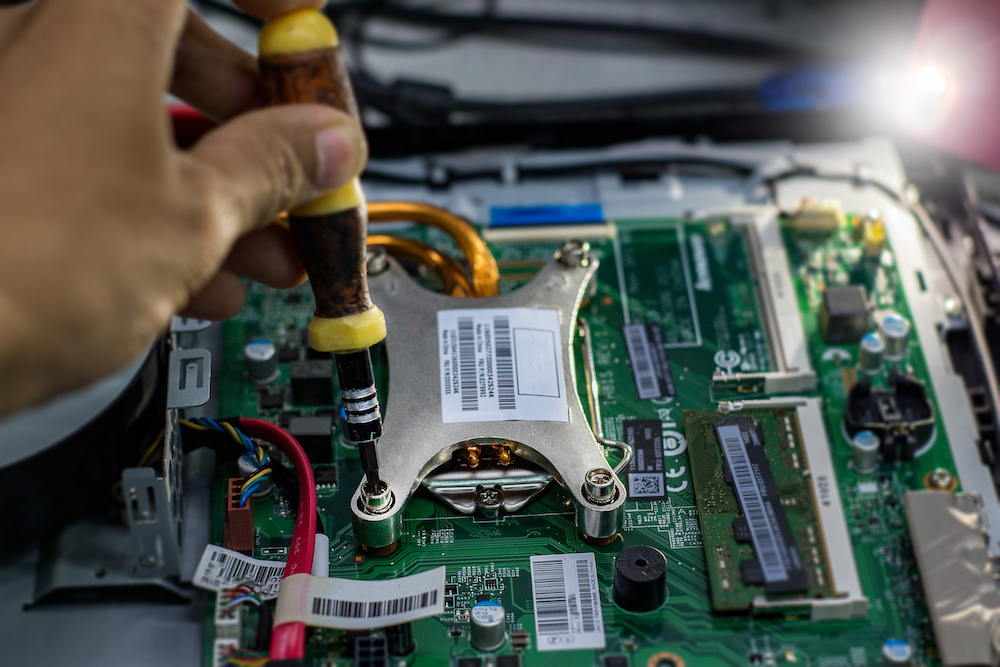 Do Motherboards Come With WiFi?
---
<!–googleoff: index–>We may earn a commission for purchases using our links. As an Amazon Associate, we earn from qualifying purchases.<!–googleon: index–>
---
When choosing a motherboard, provisions for network connectivity are one thing that weighs in on our choices.
A computer can be more valuable if it is capable of connecting to the internet.
Ethernet connectivity is one thing that most motherboards already have, but wireless connectivity is a whole other topic.
With the developments in circuit board design and the internet being particularly mainstream, one would think that the latest motherboards already have these features.
Do motherboards come with WiFi, or are there extra components you can use to work around having a motherboard without WiFi?
What Is WiFi?
WiFi stands for Wireless Fidelity, a catchy name that began as a pun resulting from HiFi, which stands for High Fidelity.
HiFi refers to a set of equipment for playing sounds and recorded music in high-fidelity sound.
Similarly, WiFi started as the first reliable wireless connectivity option, and it continues to improve wireless connections today.
WiFi is a technology that employs radio waves to enable wireless access between computer systems within networks.
It also provides wireless access to the internet.
While WiFi is vital for mobile devices such as tablets and smartphones, people still consider it a secondary component for desktop computers.
Since wired connections are more reliable, people with desktop computers typically resort only to wireless connections if pairing with mobile devices is necessary.
Do Motherboards Come With WiFi?
The short answer is yes, and no. Some motherboards come with a built-in WiFi adapter, while others do not.
The motherboard is the central hub of every computer.
Every additional component you want to have on your computer connects through the motherboard, including your network connectors.
Most modern motherboards have connectivity provisions for a wireless adapter, regardless of whether it is built into the board or not.
If wireless connectivity is essential for you, be sure to get a motherboard with a built-in WiFi adapter.
Otherwise, if you already have a motherboard without built-in WiFi, you probably only need a WiFi adapter.
Does My Motherboard Support WiFi?
There are a few ways to know if your motherboard has built-in WiFi.
One way is by doing a physical checkup of your hardware, and another is by going over the specifications page on the manufacturer's website.
If your motherboard does not have built-in WiFi, you can also check if it can support a WiFi adapter, which you can purchase separately.
Look at Your Motherboard's Rear I/O Panel
A quick and easy method of checking for WiFi support on a motherboard is by looking at your motherboard's rear input and output (I/O) panel.
The I/O panel sits on the back of your PC case, where you will also find most of the connectors for USBs, audio devices, display devices, and other peripheral hardware.
Look for antennae connectors.
A motherboard with built-in WiFi almost always has one or two antenna connectors.
If the rear panel has a single antenna connector, it most probably supports a single-band 2.4GHz wireless connection.
Dual antenna connectors allow two types of wireless connections: 2.4GHz and 5GHz.
Check the Specs Sheet
Before going online to check your motherboard's specs sheet, you should know the exact model of the motherboard that you have.
If you do not have the details of your motherboard, you can obtain it using the following procedure:
With your computer powered on, simultaneously press the Windows and R keys on your keyboard to open the Run dialog.
On the Run dialog, type in msinfo32, and hit Enter.
On the window that opens, browse down to Baseboard Manufacturer and Baseboard Product to find your exact motherboard model.
Proceed to the motherboard manufacturer's website and look for the specifications page of your particular motherboard.
You will see WiFi support details typically listed under Wireless LAN.
Expansion Options
If you find that your motherboard does not have a built-in WiFi adapter, you can also check if it can support a WiFi adapter.
A motherboard has sockets called expansion slots, designed for attaching third-party computer chips, such as graphics cards, video cards, sound cards, and WiFi adapters.
If you have a PC enclosure that showcases the insides of your computer, you can easily see if your motherboard has an extra unused expansion slot.
Otherwise, you might want to open up your PC case and check for yourself.
Check our complete guide on motherboard replacement and find the section that talks about dismantling your computer case.
The expansion slots are usually the horizontal sockets lining the lower section of the motherboard, right below the CPU socket.
They come in sockets designated as PCI or PCI Express slots on the motherboard specs sheet.
The form factor matters when it comes to the number of expansion slots on a motherboard.
Motherboards with the standard ATX form factor will typically have all the expansion slots you need.
However, smaller motherboards such as mini-ITX and micro-ATX boards may have limited expansion options.
An expansion slot on a modern motherboard will have x1, x4, x8, or x16 lanes.
You will want to save or keep using the x16 sockets for larger computer chips, such as graphics cards.
A WiFi adapter will typically fit a PCIe x1 or x4 socket, but it will also work with the larger sockets.
Perks and Fallouts of Boards With Built-In WiFi
Having a motherboard with a built-in network interface card has its advantages and disadvantages.
You might want to consider the following before upgrading to a motherboard with a built-in WiFi adapter.
Advantages
The different WiFi bandwidths available today can be quite as fast as wired Ethernet connections.
While a wireless connection could sometimes be unreliable, especially when it comes to heavy online gaming, WiFi can provide you with dependable internet for streaming and browsing.
The second advantage is having easy and direct access to wireless networks.
If you plan to set up a PC where wired connections are unavailable, wireless connectivity can be very beneficial.
Also, having built-in WiFi cuts back on costs for additional wiring, dongles, and related components.
A wireless connection also proves beneficial if you want to reduce cable clutter between several computers using the same local network.
Since a wireless network is available almost everywhere, having a built-in WiFi card on a desktop computer increases portability.
Disadvantages
The first consequence of having a built-in WiFi card on a motherboard is the higher cost.
You will find a significant price jump between two motherboards whose only difference is a built-in WiFi adapter on the more expensive one.
It is even cheaper to purchase a third-party WiFi adapter and use it on a motherboard without WiFi than to buy a motherboard with a built-in WIFi card.
Another more obvious disadvantage is a built-in WiFi adapter cancels upgradability.
If you have a motherboard with built-in WiFi only supporting a 2.4GHz bandwidth, you have to replace the whole motherboard to get the latest WiFi specs.
Alternatively, you can disable the built-in WiFi card and install a new one on any extra expansion slot instead.
What To Do if You Don't Have Built-In WiFi
Deciding to have wireless connectivity does not call for replacing major components, such as the motherboard.
You can provide your computer with wireless connectivity using one of two options.
PCIe WiFi Card
As discussed in a previous section, all you need is an extra unused PCIe expansion slot.
Getting a PCIe WiFi adapter is the best practice for having reliable wireless connectivity.
A PCIe WiFi adapter is more affordable than a motherboard with built-in WiFi.
When purchasing a WiFi adapter, choose between devices offering single-band or dual-band connections.
You also have to decide whether to get one of the more common WiFi 5 adapters or any of the recently upgraded WiFi 6 variations.
USB-Type WiFi Adapter
Any universal serial bus (USB) port can provide different types of connectivity for a computer, including a WiFi connection.
With an unused USB port on your computer, you can mount a USB WiFi adapter to connect to a wireless network.
A USB WiFi adapter is more affordable than a PCIe WiFi card, and it won't require you to open up your computer.
However, connections are more reliable with a PCIe WiFi card.
You will want to choose a high-speed USB port so that you can maximize all the speeds you can get with a USB WiFi adapter.
Conclusion
So, do motherboards come with WiFi?
In summary, not all motherboards come with WiFi connectivity.
Some will have a built-in WiFi interface card, but most will only have enough connectors for installing a WiFi chip.
Boards with built-in WiFi are more expensive, and they do not allow you to upgrade the wireless component.
If you can have a wired Ethernet connection, it is always the better option.
That said, if you want to maximize portability and minimize clutter, the cheaper way to go wireless is to have a motherboard with enough slots to support a WiFi card.
Keep in mind that using a WiFi card requires some knowledge of computer assembly.
Learning its basics will give you the edge when it comes to connectivity.
As a recommendation, we rank our options from best to least: wired, removable WiFi, then USB WiFi.