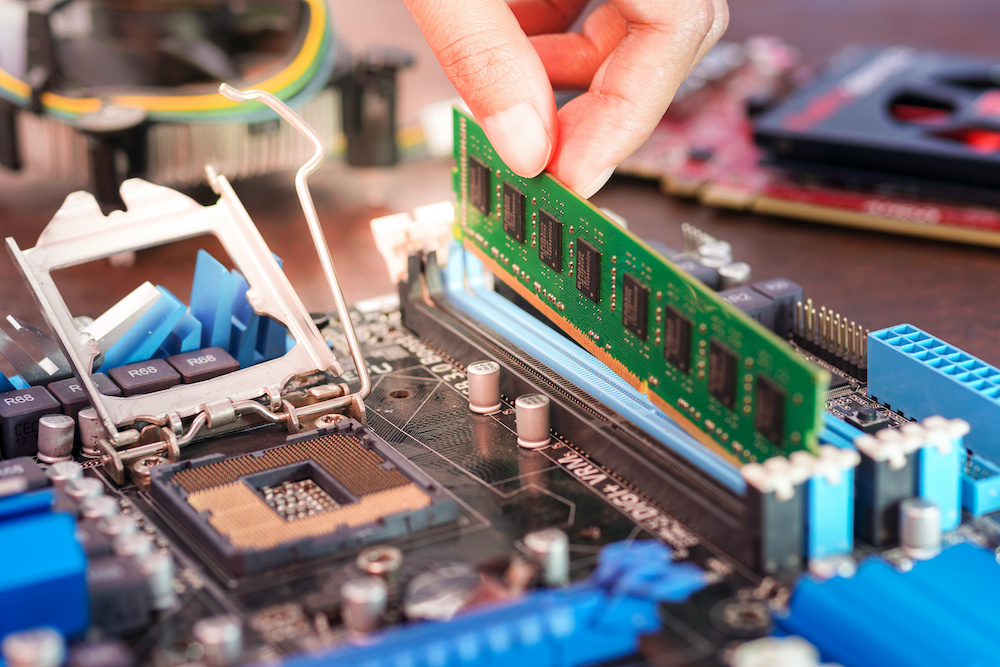 MSI Z170a Gaming M5 ATX LGA1151 Motherboard Review
---
<!–googleoff: index–>We may earn a commission for purchases using our links. As an Amazon Associate, we earn from qualifying purchases.<!–googleon: index–>
---
Finding the right motherboard that will give you a top-quality performance is key when it comes to shopping for one.
That is especially when you want to stay ahead of the curve when competing against your friends and fellow gamers online.
MSI is among one of the most popular brand choices for motherboards.
This MSI Z170A Gaming M5 ATX LGA1151 Motherboard review will detail this motherboard's features and more.
you can decide whether or not it meets your needs.
MSI Z170A Gaming M5 ATX LGA1151 Motherboard
MSI is a company that has been in the computer industry for years and gained popularity because of the quality of their products.
That is most especially when it comes to gaming computer parts, accessories, laptops, and more.
This particular version of the Z170A Gaming M5 Motherboard was released in 2018.
It has improved USB compatibility and updated Intel microcode to ensure better security.
Who Is This Product For?
The MSI Z170a Gaming M5 ATX LGA1151 Motherboard is made for the gamer who wants nothing more than the best quality performance possible.
They want the latest technology and processors to keep up to date and get with the times. The more recent the technology, the better.
Gamers prefer multiplayer games. However, there are a handful of them out there that want to make their names known in the Twitch community.
As such, they live stream the games they play for their fans and fellow gamers.
You'll notice among PC gamers on Twitch that they use gaming systems that provide the best graphics and performance.
If you like to play popular gaming titles and love to stream, this motherboard could be right up your alley.
This may also be for you if you prefer something that will give you a vast amount of memory. It's also for you if you prefer Intel over AMD.
Though most gamers talk up AMD, Intel does give its competitor a run for its money, and the debate on which is better still rages on today.
What's Included?
When you purchase the MSI Z170a Gaming M5 Motherboard, you'll get the motherboard itself and a warranty offer from the manufacturer.
Overview of Features
If you want to know what's "under the hood" of this motherboard, here's what it's got:
This socket is specifically designed to handle Intel 6th Generation processors.
It doesn't matter if it's a Core, Celeron, or Pentium. It will handle them.
There is no denying the power of Intel when it comes to overall performance.
Whether you use your computer for gaming or everyday use, Intel has proven reliable for years.
The MSI Z170a Gaming M5 ATX LGA1151 Motherboard has a handful of USB 3.1 ports, including Gen 1, Gen 2, and Gen 1 Type-A.
It also has a total of six USB 2.0 ports. This means you can connect all your favorite appliances, including storage drives, keyboard, and mouse.
Perfect for someone who wants to customize it from the ground up.
Audio Boost 3 & Nahmic Audio Enhancer
There is no denying that a high-performing gaming computer will need the best audio possible.
With this motherboard, you'll get an audio boost that will be perfect for your speakers or headphones.
You get the full-on maximum gaming experience like nothing else.
3-way Crossfire/2-way SLI ready
If you want multiple graphics cards installed on your computer, then look for a feature like this on any motherboard.
We live in a time where newer games will be demanding when it comes to graphics.
There will be times when you may want to add on a new graphics card for good measure.
You'll notice the graphics will get better or be on par with various game titles when you do.
With this motherboard, in particular, you can add on a couple more graphics cards.
As such, you get even sharper graphics without the lag. If that isn't impressive, we're not sure what is.
How to Get the Most Out of This Motherboard
This Z170A Gaming M5 review suggests that for you to get the most out of this motherboard, it's always a good idea to pair it with compatible CPUs and GPUs.
Finding both of them for this motherboard specifically can be a challenge. So be sure to do your due diligence and find the right ones.
When you do, you can install them while building your PC from scratch or if you are updating old components.
Once installed, you can test them out with some of your favorite games.
You can do so by playing games that are not so demanding in terms of graphics.
Then work your way up with some other popular titles like GTA V or Fortnite.
Alternative
To make this MSI Z170A Gaming M5 ATX LGA1151 Motherboard review comprehensive and objective, let's look at another option.
If you want a viable alternative, look no further than MSI's Coffee Lake ATX Motherboard.
This motherboard will handle Intel processors, specifically 8th and 9th generation processors.
If you find that the z170 is a tad out of your price range, then you can purchase a budget-friendly alternative quite like this one.
You'll get fast speeds, excellent sound quality, and the ability to add more graphics cards if you need them.
MSI Z170a Gaming M5 ATX LGA1151 Motherboard Review: The Verdict
This Z170A Gaming M5 review emphasizes that you'll be amazed by the power and speed of this motherboard for a long time.
You can install it on your newest PC build or upgrade your current PC.
In a world where running games' requirements get more demanding, you want to stay ahead of the curve.
All it may take is upgrading the motherboard and building a PC gaming system that will blow you away.
You can ante with your graphics anytime and can handle one of the newer generations of Intel processors.
You will be working with one of the most reliable processors in the business.
So you'll be dealing with plenty of power right out of the gate.