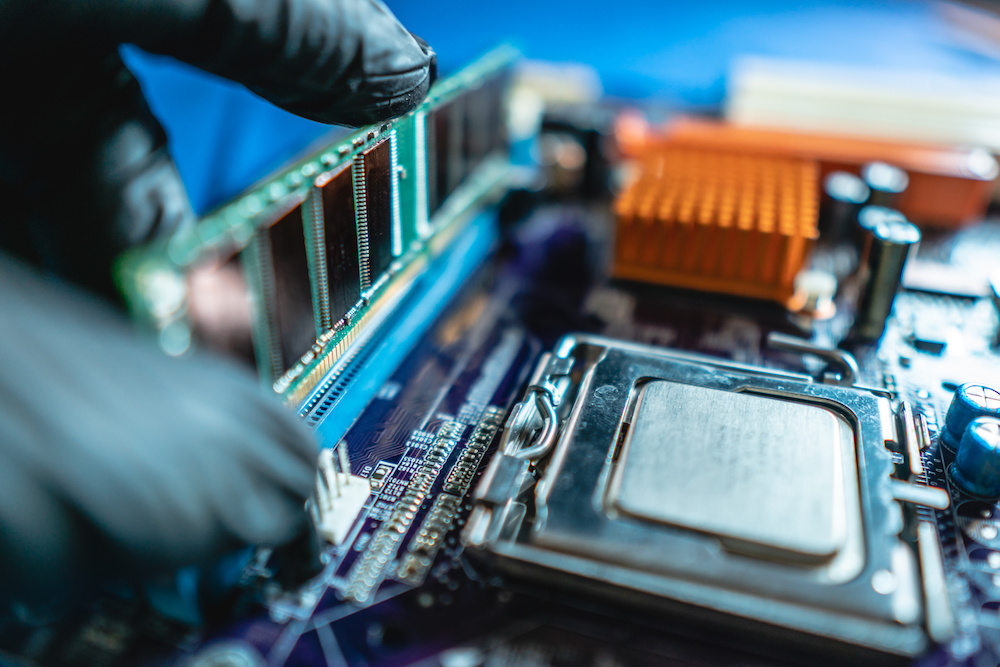 MSI Z370 Gaming Pro Carbon AC Motherboard Review
---
<!–googleoff: index–>We may earn a commission for purchases using our links. As an Amazon Associate, we earn from qualifying purchases.<!–googleon: index–>
---
The MSI Gaming Pro Carbon motherboard lineup consists of well-equipped boards for PC-building enthusiasts and gamers alike.
In this MSI Z370 Gaming Pro Carbon AC Motherboard review, we'll be discussing its features and the pros and cons of each.
We'll also give you some tips on how to get the most out of it and even offer some alternatives.
MSI Z370 Gaming Pro Carbon AC Motherboard Review
The MSI Z370 Gaming Pro Carbon AC is an Intel Z370 chipset motherboard first released in October of 2017.
It is the successor to the no-Wi-Fi MSI Z370 Gaming Pro Carbon.
Though several years have passed since then, it remains one of the best gaming motherboards with the Z370 chipset under the MSI Gaming brand.
Who Is This Product For?
The MSI Z370 Gaming Pro Carbon AC Motherboard is an excellent choice not only for experienced PC builders but also for beginners.
If you are a gamer and you plan to build a new Coffee Lake-based PC, this motherboard is a great option.
Those looking to use a Kaby Lake-S or Skylake-S processor should check out a Z270 motherboard instead.
Since the MSI Z370 Gaming Pro Carbon AC Motherboard has decent VRMs and cooling options, overclockers will also find it with zero issues.
Finally, anyone looking to get a good value motherboard with an impressive feature set could also benefit from this MSI board.
What's Included?
The packaging for the MSI Z370 Gaming Pro Carbon AC Motherboard is quite basic and simple.
First, you'll notice that it displays some colors to signify the board's RGB LED capabilities.
Inside the box, you'll find that the board comes with two SATA 6Gb/s cables, an IO shield, two Wi-Fi antennas, an SLI HB Bridge, and a wireless AC card.
The RGB LED light connectors include a Y-splitter and extension cable, a JRAINBOW extension cable, and a Corsair RGB LED extension cable.
The wireless AC card also comes with a USB 2.0 cable.
For your convenience and peace of mind, the package also includes a warranty card, an instruction manual, and a driver DVD.
Overview of the Features
To help you decide if the MSI Z370 Gaming Pro Carbon AC Motherboard is the right choice for you, let's go over all its features.
You'll be glad to know that we have dissected its components to help you get a better look.
While many of its features are exceptional, you might still want to consider other boards that provide better solutions for some of its components.
Chipset and Compatible Processors
As its name suggests, the MSI Z370 Gaming Pro Carbon AC uses the Intel Z370 Chipset.
Intel launched it in the fourth quarter of 2017, primarily for motherboard manufacturers to develop PCBs for many Coffee Lake processors.
Supported CPUs include the 8th and 9th Generation Intel Core, Intel Pentium Gold, and Intel Celeron G-Series processors with an LGA1151 socket.
The MSI Z370 Gaming Pro Carbon AC motherboard has four DDR4 memory slots that can support 64GB max RAM.
These memory slots have a dual-channel architecture, and they can support Intel Extreme Memory Profiles (XMP).
For RAM overclocking, the DDR4 DIMM slots can support speeds over 4000MHz depending on the chosen processor.
The only downside to these memory slots is they only support non-ECC unbuffered memory.
The MSI Z370 Gaming Pro Carbon AC motherboard boasts a total of three PCIe 3.0 x16 slots.
These three slots can either run on x16/x0/x4 or x8/x8/x4 modes.
In addition to the three x16 slots, the board has three PCIe 3.0 x1 slots for smaller expansion cards.
These expansion options allow the board to support multi-graphics functions using 2-Way NVIDIA SLI or 3-Way AMD CrossFire technologies.
Storage Interface Allocations
The MSI Z370 Gaming Pro Carbon AC has six SATA 6Gb/s ports and two M.2 Key M slots for storage devices.
It supports RAID 0, 1, 5, and 10 for SATA storage devices, as well as RAID 0 and 1 for M.2 PCIe devices.
You can use both the M.2 slots for a SATA 6Gb/s, a PCIe 3.0 x4, on an Intel Optane Memory device connection.
However, make sure that all drivers and BIOS settings are up to date before installing any Intel Optane Memory device.
Both M.2 slots can also hold a PCIe 3.0 x4 NVMe U.2 solid-state drive with U.2 Host Card, but you will have to purchase the host card with the SSD.
The VRM on the motherboard uses 8+2 power stages with double the MOSFETs per phase for the CPU VCore.
It also has a doubler for the integrated GPU using a two-low, one-high configuration.
With the same MOSFETS as the CPU VRMs, the board uses a one-high, two-low side-configured VRM for the memory modules.
As with most motherboards, the whole system can benefit from increased airflow.
For that, this board has a CPU fan connector, a water pump connector, and four system fan headers.
With the MSI Z370 Gaming Pro Carbon AC motherboard, you can expect the best online gaming experience.
The board runs an Intel I219V Gigabit LAN controller and an Intel Dual-Band Wireless-AC 8265 adapter.
This Wireless-AC card supports Wi-Fi 802.11 a/b/g/n/ac up to 867 Mbps and dual-mode Bluetooth up to 25 Mbps.
These connections allow the lowest latency and can be controllable using the MSI Gaming LAN manager.
The MSI Z370 Gaming Pro Carbon AC motherboard offers the most immersive sound experience for gaming.
It uses the Realtek ALC1220 Codec with 7.1-channel high-definition audio, and it has a S/PDIF out port.
With premium-quality audio components, MSI Audio Boost can deliver the highest sound quality.
The audio components on this board also use the Nahimic Sound Technology, enabling virtual surround sound, smart loudness, bass boost, soundtracking, and voice quality adjustments.
Appearance and RGB Aesthetics
The MSI Z370 Gaming Pro Carbon AC motherboard has a modest black and gray color scheme.
Its uncluttered layout and ultra-modern-looking carbon fiber heatsinks work together to give the board a very sophisticated appearance.
MSI lined several parts of the board with some light show with LEDs.
You will find them positioned on the carbon fiber heatsinks, the rear right side of the board, and the left side near the audio capacitors.
Even without third-party RGB LED strips, the board can bring out several colors of its own using the MSI Mystic Light software.
Even so, MSI does not take the boredom out of the board's aesthetics by increasing customizability.
The MSI Z370 Gaming Pro Carbon AC motherboard has two 5050 RGB LED strip 12-volt connectors and one addressable RGB LED strip 5-volt connector.
Additionally, CORSAIR fans will enjoy the included CORSAIR addressable RGB LED 5-volt connector.
The back panel has a PS/2 combo port, two USB 2.0, four USB 3.1 Gen1, One USB 3.1 Gen2 Type-A, and one USB 3.1 Gen2 Type-C.
You will also find an HDMI port and a DisplayPort for your display requirements.
The maximum resolution support is 4096 by 2160 at 24Hz for the HDMI and 4096 by 2304 at 60Hz for the DisplayPort.
The audio section of the back panel has five golden audio jacks and an optical S/PDIF-Out port.
Other Internal Connectors
Other possible internal connections include front panel USBs and audio jacks, a TPM connector, a chassis intrusion header, and a Clear CMOS jumper.
How To Get the Most Out of It
As stated earlier, the MSI Z370 Gaming Pro Carbon AC only has 8+2 power stages of VRM heat dissipation.
To get the most out of this board, you would want to try it out for overclocking the CPU and RAM.
You can accomplish this by taking advantage of all the cooling options available to the board.
It would be best to have a positive computer case air pressure or at least a cooling unit, such as a fan, directed at the VRMs.
On another note, the MSI Z370 Gaming Pro Carbon AC motherboard offers onboard LEDs for built-in aesthetics.
You might want to customize RGB lighting by adding more LED strips using the available headers and by downloading the MSI Mystic Light app.
This application allows you to personalize your gaming rig by customizing the lighting color schemes and bringing them in sync with your games and music.
Alternatives
If you want to check out other Z370 chipset motherboards, we recommend the Asus TUF H370-Pro Gaming Wi-Fi or the Gigabyte Z370 Aorus Gaming 5.
These boards also use the Z370 chipset, but they may sit at a higher price point.
The TUF Gaming brand gives the Asus TUF H370-Pro Gaming Wi-Fi motherboard excellent real-world performance through its durable components.
On the other hand, the Gigabyte Z370 Aorus Gaming 5 motherboard escalates expansion options with triple M.2 slots.
Both boards have slick RGB packages. They also offer the customizability available to the MSI Z370 Gaming Pro Carbon AC.
Conclusion
To conclude our MSI Z370 Gaming Pro Carbon AC Motherboard review, we'll just say that this board is truly gaming-certified.
It has gone through 24-hour rigorous testing in online and offline games and fared well even for eSports players.
The next question you should be looking out for is what processor pairs well with the MSI Z370 Gaming Pro Carbon AC?
If you think you need to check out more alternatives, the best motherboards for the Intel i9 9900K also use the Z390 chipset.