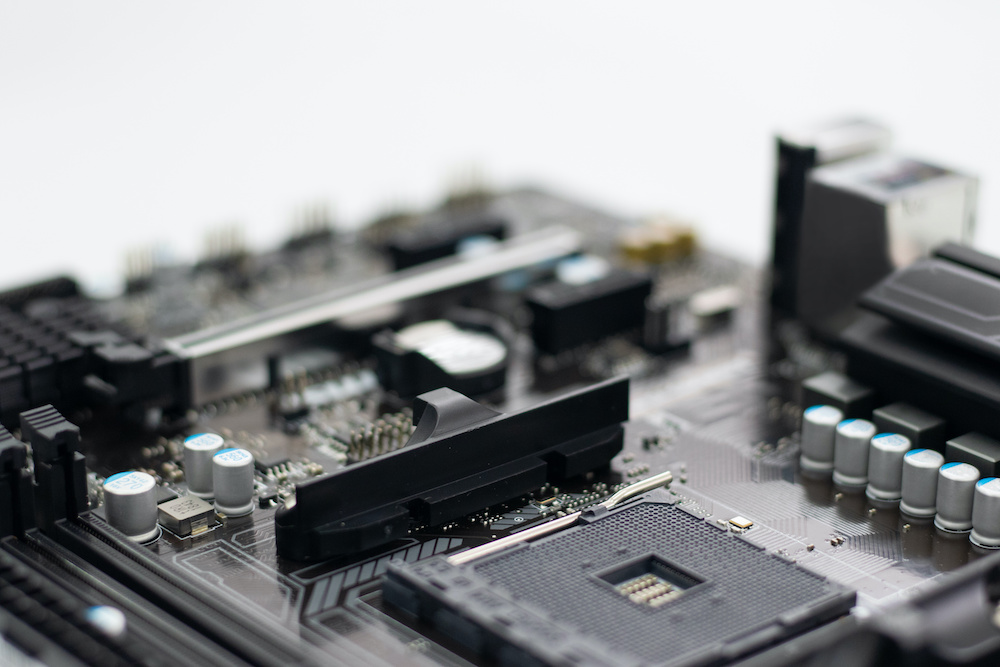 Best Motherboard for Ryzen 7 3700X in 2021: Complete Reviews With Comparisons
---
<!–googleoff: index–>We may earn a commission for purchases using our links. As an Amazon Associate, we earn from qualifying purchases.<!–googleon: index–>
---
Wondering what other components you should be pairing with your Ryzen 7 3700X processor?
The Ryzen 7 3700X is an eight-core, 16-thread processor with a base clock speed of 3.6 gigahertz.
With a wise choice of computer components to assemble with this processor, you can boost its clock up to 4.4 gigahertz.
Those who have been assembling PCs know that any GPU or CPU component is just a paperweight without an exceptional motherboard to house them.
In that case, we're here to help you choose the best motherboard for Ryzen 7 3700X.
Comparison Chart
MSI MAG X570 TOMAHAWK WIFI Motherboard
ASUS ROG Strix X570-E Gaming ATX Motherboard
ASUS ROG Strix B550-F Gaming Motherboard
ASRock B450M PRO4 AM4 AMD Motherboard
GIGABYTE GA-A320M-S2H Motherboard
Best Motherboard for Ryzen 7 3700X Reviews
1. MSI MAG X570 Tomahawk Wi-Fi Motherboard
MSI is an industry leader when it comes to high-end, high-performance motherboards.
The company offers a wide array of X570 chipset motherboards to choose from, including the MSI MAG X570 Tomahawk.
The X570 Tomahawk is a step up from the X570 Gaming Edge, Gaming Pro Carbon, and Gaming Plus motherboards.
Its VRM technology is more reliable than those of its predecessors at the same price range.
Product Highlights
The X570 Tomahawk supports Ryzen processors up to the 5000 Series, which means it is future-proof if you want to upgrade your Ryzen 7 3700X.
It combines eight- and four-pin CPU power connectors in a premium layout design, allowing maximum performance overclocking.
With the heavy-duty heatsinks and multiple cooling peripheral connectors, this motherboard can sustain intense workloads.
The heatsinks are equipped with the MSI-patented fan and double ball bearings to provide the best experience for PC enthusiasts.
What's more, you can max out on DDR4 RAM using kits up to 128GB.
SATA and USB headers are strategically located for an effortless DIY build experience, and PCIe 4.0 slots offer lightning-fast connections.
The board has a built-in, high-definition ALC1200 audio processor that allows high-quality audio.
The Good
The MSI MAG X570 Tomahawk can go against other mainstream X570 boards, notwithstanding its affordability.
You'd also be impressed that it delivers reduced thermal outputs compared to other MSI X570 motherboards.
The Tomahawk features smart power stages in its VRM, allowing current and temperature monitoring for optimum thermal performance.
The Bad
Check your options for cooling when choosing the MSI MAG X570 motherboard.
System cooling headers are located at the lower end of the board, making overhead fans a little bit problematic.
2. Asus ROG Strix X570-E Gaming Motherboard
Next on our list is the Asus ROG Strix X570-E Gaming Motherboard.
With its new line of high-end, quality motherboards, Asus has done it again.
The ROG Strix X570-E is an excellent pairing for the Ryzen 7 3700X processor.
And if you're an avid PC builder, we don't really have to convince you about the ROG Strix X570-E, do we?
Product Highlights
The ROG Strix X570-E Gaming motherboard has an AM4 socket, making it ready for 2nd and 3rd Gen AMD Ryzen processors, including the 7 3700X.
Enjoy an effortless DIY experience with this board thanks to its ROG-patented pre-mounted I/O shield, connectors, ASUS SafeSlot, and BIOS Flashback.
The motherboard has four single-latch DIMM slots to allow up to 128GB DDR4 memory.
You can find the internal USB 3.2 Gen 2 Type-C header near the DIMM slots and close to an RGB header beside a 24-pin power connector.
Diagnostic POST LEDs are in plain view, so any user can effortlessly see which component correctly goes through the power-on self-test.
With its eight SATA ports, a high-caliber board like this can offer plenty of flexibility for cheaper and slower SATA storage devices.
It is also noteworthy that the SATA ports do not share any bandwidth with the M.2 connectors.
This means the eight SATA ports can be used simultaneously.
The Good
The X570-E Gaming motherboard has dual operational amplifiers and a SupremeFX S1220A audio codec.
Its audio capabilities set it on a higher bar than its competitors.
Additionally, the ROG X570-E Gaming board offers excellent fan control capability, making it a contender for system overclocking.
The Bad
Unfortunately, you might find that the ROG X570-E Gaming board lacks onboard power and reset buttons, as well as voltage monitoring points.
These factors can be a downside for over-clockers who would like to monitor their system accurately.
3. Asus ROG Strix B550-F Gaming Motherboard
If it's an Asus ROG, you can expect high-quality performance, which is why we have two ROG boards on this list.
The ROG Strix B550-F Gaming Motherboard is another Asus board highly compatible with the Ryzen 7 3700X.
The only transition we're making here is to the B550 chipset.
Product Highlights
Like the X570-E and X570 Tomahawk, the B550-F can support up to 128GB of DDR4 RAM.
When overclocked, it can support speeds up to 4400MHz.
The B550-F has 14 integrated power stages for VRM, and the CPU slot has an eight and four-pin power connector.
Like most Asus motherboards, the B550-F offers a user-friendly BIOS interface, making setting adjustments more manageable.
You can also get unmatched personalization with the B550-F thanks to its RGB and ARGB headers.
Like the ROG Strix X570-E, the B550-F also has industry-leading gaming audio that uses the SupremeFX S1220A codec.
The Good
The Asus ROG Strix B550-F can go head-to-head against more expensive X570 motherboards.
For one, it can pack up the power for overclocking the Ryzen 7 3700X processor.
And it can also maintain its operation using high-quality alloy chokes and durable capacitors.
The B550-F offers the best gaming connectivity and smooth networking, too.
The Bad
Compared to X570, the chipset link of the B550 to the CPU is a PCIe Gen 3, which means throughput could be at a disadvantage.
Moreover, the second full-sized GPU connects through the chipset, so the board will only run multiple GPUs using Crossfire.
The B550-F motherboard has locked x16 CPU lanes to the primary GPU slot, most likely since most users have a single powerful GPU.
4. ASRock B450M Pro4 Motherboard
Once again, ASRock has not failed to compete with the more popular Asus and MSI boards.
Another best-buy board from ASROCK is the B450M Pro4 Motherboard.
The B450M Pro4 packs everything necessary to run the Ryzen 7 3700X at stock and overclocked speeds.
Product Highlights
The B450M Pro4 is a high-performance motherboard with plenty of I/O ports, including a PS/2 for old-school peripherals.
Built-in RGB headers allow onboard aesthetics and customization, and an onboard Ethernet adapter provides connectivity.
For audio, the board has a Realtek ALC892 codec that gets the job done.
If you're still unsure why we included this particular B450 chipset board in this compilation, check out our other recommended B450 motherboards.
The Good
The ASRock B450M Pro4 motherboard uses a micro ATX form factor.
Albeit being a smaller board, it overclocks well, has adequate storage and PCIe connectivity, and even has RGB functionality.
You can use it with smaller PC cases, or you can have more space for other items inside your PC case.
The Bad
Because of its form factor, some features cannot be compared with better options from competing boards.
The B450M Pro4 only has four SATA ports in addition to the two M.2 slots.
In comparison, the X570-E has eight SATA ports, which gives it more storage capacity than the B450M Pro4.
5. Gigabyte A320M-S2H Ultra Durable Motherboard
For our final review, let's take a look at the Gigabyte A320M-S2H Motherboard.
This motherboard permits effortless DIY PC building for quick setups, making it excellent for first-time builders or starter kits.
Product Highlights
Like the ASRock B450M Pro4, the Gigabyte A320M-S2H also has a micro ATX form factor.
Its size only allows two DDR4 memory slots and a single GPU slot that uses a PCIe 3.0 interface.
The board uses a Realtek ALC887 codec, and it has three PCIe slots.
For I/O, the A320M-S2H offers three display outputs: HDMI, DVI, and D-Sub.
The Good
The Gigabyte A320M-S2H is probably the cheapest motherboard in this compilation.
Nevertheless, it won't fail when paired up with the Ryzen 7 3700X.
If you are on a tight budget, you can use this board to get the most out of your Ryzen 7 3700X.
The Bad
Although it works well with the Ryzen 7 3700X, the A320M-S2H does not have overclocking versatility.
The board has two system fan connectors, which might not support thermal outputs from overclocked speeds.
Buyer's Guide
Since a motherboard bridges all of your computer components, it is vital to have a checklist for choosing one.
Check out the different things you should consider when buying a motherboard for your Ryzen 7 3700X processor.
1. CPU Compatibility
Although there are so many processor brands out there, motherboard manufacturers keep competing and collaborating for the two top-ranking CPU brands: Intel and AMD.
For those of you who do not yet know, Ryzen processors belong to a long list of high-end processors from AMD.
Having a Ryzen 7 3700X ultimately means you will need a motherboard that has an AMD AM4 chipset.
2. Overclocking Capacity
Serious about overclocking your CPU to reach speeds up to 4.4 gigahertz?
If so, you need a high-end motherboard that can support this.
While experienced overclockers recommend motherboards with the B450, X470, and X570 chipsets, study the following factors on a board for overclocking capacity.
Reliable Power Supply
Components on a motherboard require increased amounts of power to increase clocking speeds.
Depending on the model, a motherboard can have one or two CPU power supply connectors.
Choose a model with two power connectors to run your CPU at a rate that is more than its stock speed.
Voltage Regulator Module Quality
Components attached to a motherboard can burn out if the power supply is not kept in check.
A good motherboard should have reliable voltage regulator modules (VRMs) to control and lower the voltage sent to components attached to it.
VRM control ensures that a PC component, such as a CPU or a GPU, does not exceed its maximum voltage capabilities.
Multiple Cooling Options
Safe overclocking requires adequate cooling.
Since overclocking uses a lot of electricity and generates more heat, any form of cooling can counter overheating problems.
Get a motherboard that offers multiple options for cooling.
Cooling fans and cooling coils also use power, so choose a motherboard with enough connections for cooling peripherals.
3. Ports and Slots
Get the most out of your Ryzen 7 3700X by matching it with enough RAM and powerful hard drives.
Your motherboard should have enough SATA ports and M.2 PCI-e NVMe slots.
If you already chose a motherboard and think you still need more slots, there are adaptor cards that can double M.2 slots.
Additionally, some motherboards have two or more GPU slots.
4. Form Factor
If you already have a PC case, the form factor should be one of your considerations.
The form factor pertains to the shape and size specs of a motherboard.
Aside from dictating a particular PC housing, the form factor also dictates power supply requirements and overall physical arrangement.
The Advanced Technology Extended (ATX) form factor is the number one choice for high-powered computer setups.
It offers more ports and slots, and the build can be more customizable.
5. I/O Connectors
Input and output (I/O) are also essential for exploiting a Ryzen 7 3700X processor.
I/O is dependent on the available peripheral connectors on a motherboard.
Hence, check every connector on a motherboard before buying it.
Audio and video adapters, Ethernet ports, Wi-Fi and Bluetooth adapters, and available USB ports constitute all the I/O connectors a motherboard can have.
6. Motherboard Extras
Finally, there are those so-called motherboard extras, including onboard on and off switches and diagnostic LED lights.
These extras have little to do with the Ryzen 7 3700X's performance, but they can go a long way in helping with computer diagnostics.
Motherboard for Ryzen 7 3700X FAQs
1. What motherboard goes with Ryzen 7 3700X?
A motherboard well-suited for the Ryzen 7 3700X processor has an AMD AM4 chipset.
Compatible chipsets under the AM4 family include the A320, A520, B350, B450, B550, X370, X470, and X570.
2. Is Ryzen 7 3700X high end?
If you are gunning for performance in an AMD processor, the Ryzen 7 3700X pretty much does the job.
As we have already stated, it can run on a stock speed of up to 3.6 gigahertz, and it allows overclocking up to 4.4 gigahertz.
The stock speed is comparable to that of workstation-level and high-end desktop AMD processors.
It has more cores than the standard entry-level and mainstream processors.
3. How much RAM do I need for Ryzen 7 3700X?
RAM is essential when building a high-powered PC.
To get maximum capacity, speeds, and performance from your Ryzen 7 3700X processor, you will have to use a reliable RAM kit.
Pair your Ryzen 7 3700X with a 3000-megahertz RAM kit or faster.
If you have the money for it, choose a RAM that has at least 16GB capacity.
4. What power supply do I need for Ryzen 7 3700X?
At full CPU load, the Ryzen 7 3700X can maintain a system-wide power draw of around 150 watts.
However, this processor is known for not being power-hungry.
Instead, the power supply requirements are more dependent on all the components attached to a computer.
These components include the motherboard, CPU, memory, video cards, storage devices, optical drives, and monitors.
On average, a computer with a Ryzen 7 3700X motherboard should have a power supply of at least 500 watts.
Allowances are excellent for overclocking, and that's why PC enthusiasts use a PSU that doesn't go below 650 watts.
5. Will B550 support Ryzen 7 3700X?
B550 chipset motherboards support the Ryzen 7 3700X processor.
If you haven't noticed, we have one B550 motherboard on our list.
The only thing critical when using a B550 or B450 motherboard for the Ryzen 7 3700X is the presence of reliable VRMs.
Which Motherboard Is Best for Ryzen 7 3700X?
For our recommendation, the best motherboard for Ryzen 7 3700X is the MSI MAG X570 Tomahawk Wi-Fi Motherboard.
It takes its place as one of the most impressive X570 boards, and it is a far better improvement than MSI's other X570 boards.
Unless you are willing to spend more than 500 bucks, nothing can beat the X570 Tomahawk's VRM performance.
You may have noticed that we haven't included any X470 motherboards in this compilation.
The main reason is that the X570 chipset is the more recent and more improved version of the X470 chipset.
If you have to hold back on spending, you'll be happy to know that the X470 works pretty well with the Ryzen 7 3700X.
However, if you have the money for an X570, stick with the MSI MAG X570 Tomahawk Wi-Fi Motherboard.