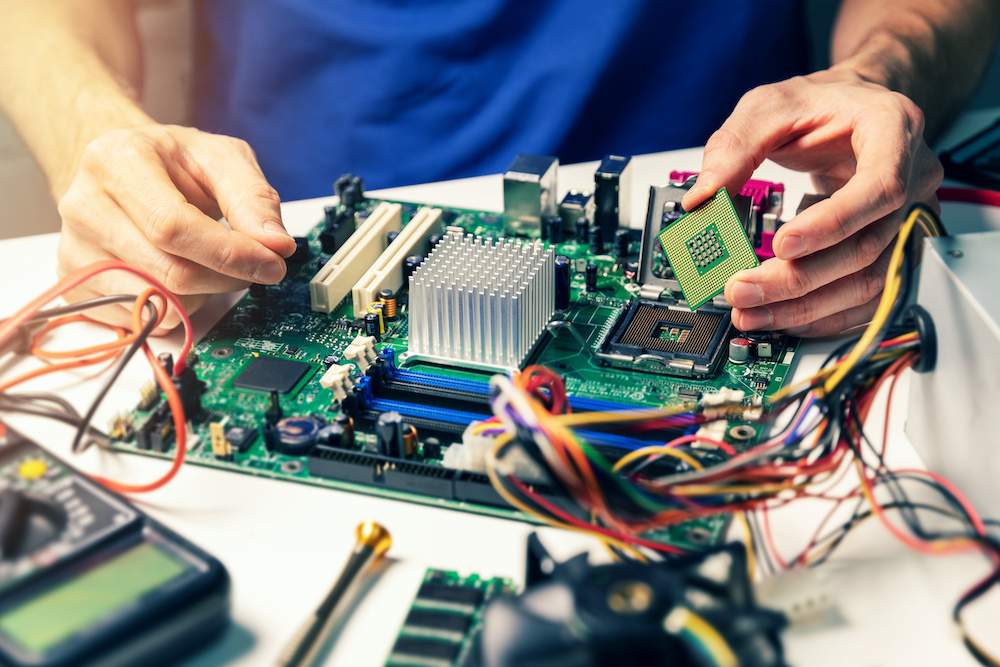 Gigabyte GA-H110M-A Micro ATX LGA1151 Motherboard Review
---
<!–googleoff: index–>We may earn a commission for purchases using our links. As an Amazon Associate, we earn from qualifying purchases.<!–googleon: index–>
---
Starting a small business requires document tracking, financial statement recording, and inventory listing.
The only way to efficiently do all of these tasks is by having a business-grade computer as a business tool.
When starting a small business, an initial investment in a computer does not have to cost you an arm and a leg.
Having the right parts for the computer is key to spending initial capital wisely, and the choice of a motherboard is essential for setting up your business PC.
In this Gigabyte GA-H110M-A Micro ATX LGA1151 motherboard review, we'll discuss how the GA-H110M-A can be a perfect fit for your small home business computer.
About Gigabyte Ultra Durable Series
Gigabyte has set the industry standards for excellent quality motherboard components since they adapted hazardous substance restrictions in 2005.
The company has been using all-solid capacitors in all of their Ultra Durable motherboard series to provide better efficiency than old-fashioned electrolytic capacitors.
These all-solid capacitors feature a lower equivalent series resistance (ESR) compared to electrolytic versions.
The solid organic polymers within all-solid capacitors have up to six times longer lifespan, higher tolerance for high temperatures and frequencies, and zero explosion tendencies.
Gigabyte GA-H110M-A Micro ATX LGA1151 Motherboard Review
Gigabyte offers the same lasting quality in the GA-H110M-A Micro ATX motherboard.
This motherboard belongs to the Ultra Durable series supporting the 7th and 6th Generation Intel Core Processors for improved performance, power efficiency, and DDR4 memory support.
It is not a high-end performance motherboard for multi-threaded multi-tasking, but it can be a reliable tool for your business.
Who Is the Gigabyte GA-H110M-A Micro ATX Motherboard For?
Gigabyte encompasses a wide range of motherboards, each having a target market and a set of properties for specific applications.
The company competes in creating motherboards for developers, gamers, creative professionals, and other high-end applications.
However, it also takes part in creating low-end components for regular home and office use.
Albeit at the lower end of the rating spectrum, these motherboards can efficiently run documents and spreadsheets for any startup enterprise.
Entry-Level and Everyday Users
The GA-H110M-A Micro ATX motherboard is enough for youngsters who are just about to learn how to use a computer.
It is also sufficient to play tunes and stream videos as long as it has a reliable internet connection.
You can install it on a computer for everyday computing and writing tasks.
Small Business Owners and Home Office Operators
A startup business requires proper records and documentation.
Having the GA-H110M-A Micro ATX Ultra Durable Motherboard on a computer system ensures all business records are intact and ready for access anytime you need them.
Online Business Workers
Any online freelancer can opt to work from home, and the GA-H110M-A Micro ATX Motherboard is sufficient to handle regular computing tasks.
If you work primarily with emails and online team applications, the GA-H110M-A Micro ATX Motherboard gets the job done.
What's In the Box?
The package includes the GA-H110M-A Micro ATX motherboard, two SATA cables, and a rear I/O shield.
One of the SATA cables has a 90-degree connector, while the other has a standard straight plug.
Overview of Features
Some of the things you'll expect from this motherboard are:
Dual-Channel
The GA-H110M-A Micro ATX Motherboard features two dual-channel DDR4 DIMMs for up to 32GB of system memory.
These memory slots can support DDR4 2400/2133 MHz memory modules.
For expansion, the GA-H110M-A Micro ATX Motherboard has a single PCIe 3.0 x16 slot running on 16 lanes and two PCIe 2.0 x1 lanes.
Multiple Connectors
This PCB has four SATA 6-Gbps connectors for storage drives.
USB chipsets include four USB 3.0 ports and six USB 2.0 ports, some of which connect to internal headers.
Input and output back panel connectors include two PS/2 ports, one HDMI port, one LAN port, and three audio jacks.
High-Quality Onboard Audio
The onboard audio component is a High-Definition Audio adapter using the Realtek ALC887 codec with S/PDIF output.
This audio adapter allows listening to music and audio files with high-quality resolution and more realistic sound expansion.
A noise guard protects its top-of-the-line audio capacitors from electronic interference coming from other components of the motherboard.
Glass Fabric PCB
Gigabyte manufactures the GA-H110M-A Micro ATX printed circuit board with glass fabric PCB technology that repels moisture from damp and humid conditions.
Short circuit and malfunction protection are higher due to the densely woven fiberglass material.
ESD Protection
Electronic components such as motherboards are always prone to electrostatic discharge (ESD).
Gigabyte ensures that the GA-H110M-A Micro ATX Motherboard has ESD protection for Ethernet LAN and USB ports, common contact points for ESD-related malfunctions.
ESD protection diverts possible electrostatic surges for outside sources, including anyone using an electronic device, such as a computer.
Energy Efficiency
Whenever a motherboard and CPU operate, both generate a certain amount of heat.
If high-temperature outputs go unregulated, energy wastage occurs due to unnecessary residual heat dissipation.
The GA-H110M-A Micro ATX Motherboard uses low resistance drain-to-source (RDS), which recirculates energy back into the electricity source.
With a low RDS (on), less power gets lost across the MOSFET, leading to more energy savings across the board.
High-Speed LAN
The GA-H110M-A Micro ATX Motherboard has a Realtek GbE LAN with cFosSpeed Internet Accelerator Software.
cFosSpeed is a network traffic management application that maintains low ping times and improves network latency.
Network traffic management delivers better responsiveness in crowded local area networks.
Support for 4K Ultra HD
Gigabyte motherboards have built-in 4,000-pixel support using the integrated Intel HD Graphics and the HDMI port.
With a 4K resolution, Gigabyte motherboards deliver ultra-high-definition content.
Supports Intel Small Business Basics
The GA-H110M-A Micro ATX Motherboard supports Intel Small Business Basics, a built-in IT solution for security and productivity.
You can set or customize its graphical user interface to make it more intuitive for your particular needs.
The software offers file sharing, screen sharing, instant chatting, and blocking of unwanted USB devices.
How to Get the Most Out of Your Gigabyte GA-H110M-A Motherboard
You can rely on the GA-H110M-A Micro ATX Motherboard to last for many years, as long as you don't overuse it for high-end gaming and rendering applications.
It only has regular everyday use components, and the manufacturer did not intend it for turbo-boosting.
This board may have reliable heat dissipation components, but they are not enough for extremely high temperatures due to any misuse.
Alternatives
If you want more HSIO lanes, more expansion slots, support for more DIMMS, and some overclocking capabilities, go for an ATX board with a Z170 chipset.
The MSI Z170A Gaming M5 ATX LGA1151 motherboard offers better performance in high-end graphics and gaming.
It has more DIMMs and PCIe slots for multi-graphics functionality, and it offers turbo boosts for CPU maximization.
If you are looking for another micro-ATX motherboard to fit your small PC case, check out the ASRock B365M Phantom Gaming 4 mATX.
It offers the same small form factor as the Gigabyte GA-H110M-A, but it has more DIMM slots, heatsinks, and VRMs.
For a slight cost increase, have better gaming functionality on a micro-ATX board.
Verdict
Remember that the GA-H110M-A Micro ATX Motherboard is a general-use PCB suitable for entry-level applications, word processing, and spreadsheet management.
This Gigabyte GA-H110M-A Micro ATX LGA1151 motherboard review is here to let you know why this motherboard is excellent for first-time users and startup businesses.
As you or someone who uses it learns more about higher-tier computing, gaming, and image and video editing, an upgrade will ultimately become a necessity.
Also, as your business becomes more extensive, you will be investing in computers with higher storage capacities and faster computing capabilities for business efficiency.